The blueberry pie turned out great. Hopefully, we'll be able to save it for tomorrow night's dinner. I started with an old tried and true recipe, but made a few changes. Instead of 1/3 cup of flour, I used 1/4 cup of tapioca and pulverized it in the coffee grinder so it wouldn't leave lumps.  I've discovered that blueberry pie with ground tapioca has a very smooth, velvety filling – much smoother than flour.
Update:  I still make this pie with tapioca if I have some, but more often than not I just use the original 1/3 cup flour.  I also like to top it with a crumb topping instead of using a second crust.  Here's what it looks like with crumb topping. Directions are in the notes section.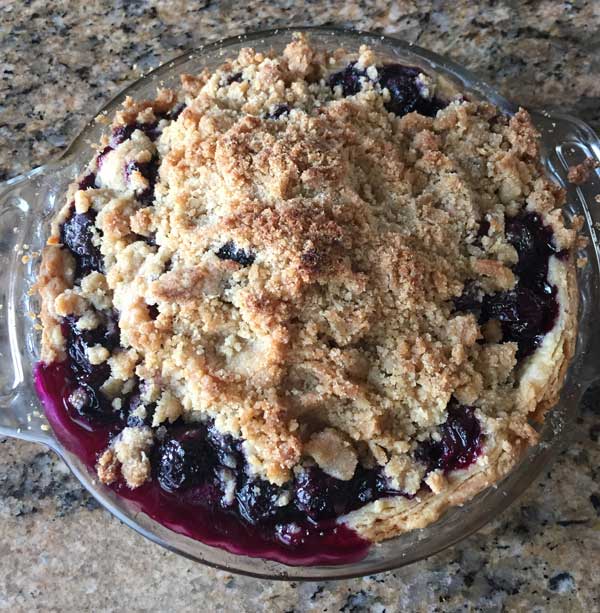 Blueberry Pie
This is a basic recipe for blueberry pie with a lattice top. For this filling you can use 1/4 cup ground tapioca or 1/3 cup all-purpose flour.
Ingredients
Crust:
2 1/2 cups all purpose flour
1 teaspoon salt
2 tablespoons sugar
Pinch cinnamon
5 tablespoons shortening or lard, cut up
12 tablespoons butter, cut up
1/3-1/2 cup cold water
Filling:
4 cups fresh blueberries (see note)
1 tablespoon fresh lemon juice
1/4 cup tapioca, ground up in coffee grinder (or 1/3 cup flour)
1/2 teaspoon cinnamon
3/4 cup sugar
Instructions
Combine all crust ingredients except water, but do not stir. Place bowl of ingredients in freezer until shortening and butter are frozen (about 2 hours).
To make dough, empty frozen mixture into food processor and process mixture into coarse crumbs. Add water a few tablespoons at a time and pulse until mixture comes together. Empty moistened ingredients back into mixing bowl and shape into two spheres, adding water as needed to hold the spheres together. Using too much water is better than overworking the dough, so if your dough is a tad bit sticky, don't worry. The dough should be lumpy with bits of butter flecked through.
Place each dough sphere in a gallon size zipper bag and chill for about half an hour.
When ready to make pie, proceed as follows. Place berries in a large mixing bowl and toss with lemon juice. Combine ground up tapioca, cinnamon and sugar. Pour over berries and stir to coat berries. Let sit for about 15 minutes.
Meanwhile, remove one sphere of pie dough from refrigerator but keep it in the zipper bag. Roll dough out in zipper bag. Cut side of zipper bag. Invert dough circle over 9 inch glass pie plate and carefully peel away zipper bag. If dough seems too sticky to work with, throw it in the freezer for a few minutes. Poke holes all over dough with a fork, press a piece of foil gently over the pie dough shell, weigh down with pie weights and bake on a rimmed baking sheet at 400 degrees F. for 10 minutes.
While the pie shell bakes, take out second half of dough and roll into a big circle. Cut into 3/4 inch strips.
Put the blueberry mixture into the baked pie shell, arrange the strips in a lattice pattern over the blueberries, set on a rimmed baking sheet and bake at 400 for 35 minutes.
Notes
Crumb Topping Variation

Skip the second crust and forget the lattice.

Bake the bottom crust as directed for 10 minutes, covered with foil and weighed down with pie weights.

Mix together the ingredients below and sprinkle over the filling, then bake on a rimmed baking sheet at 375 F (rather than 400F) for about 45 minutes. After about 30 minutes, lay a sheet of foil over the topping to prevent it from over-browning.

Crumb Topping:
1/2 cup plus 2 tablespoons all-purpose flour
3 tablespoons dark brown sugar, golden okay too
2 tablespoons granulated sugar
1/4 teaspoon cinnamon
1/8 teaspoon salt (omit if using salted butter)
4 tablespoons unsalted butter, melted and cooled
1/4 teaspoon vanilla extract (optional)
Related posts: