These macadamia blondies from the Whole Foods recipe collection have a rich butterscotch flavor and just enough maple flavor to let you know it's there. On a scale of 1-10, they're a 10. One thing to note is that the bake-time on the original recipe is approximate. The directions say 40-50 minutes but mine are always done in less than 40, so check at 35.
Recipe Here — Maple Macadamia Butterscotch Blondies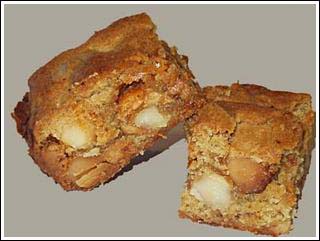 Update: Ten years later I'm still making these macadamia blondies. You can see the original recipe on the link. Below is how I make them.

Maple Butterscotch Macadamia Blondies
Maple Butterscotch Macadamia Blondies baked in a 9 inch square pan
Ingredients
3/4 cup chopped macadamia nuts
1 1/2 cups all-purpose flour
1 teaspoon baking powder
1/2 teaspoon salt
3/4 cup (1 1/2 sticks) butter, softened (6 ounces)
1 cup packed light brown sugar
2/3 cup granulated sugar
2 eggs
1 1/2 teaspoons maple extract or 3/4 vanilla and 3/4 maple
1 1/2 cups butterscotch chips
Instructions
Preheat the oven to 350°F. Line a 9 inch square metal pan with nonstick foil.
toast the macadami nuts on a rimmed baking sheet for about 5 minutes.
Stir the flour, baking powder, and salt together and set aside.
Beat the butter, brown sugar, and granulated sugar with an electric mixer until smooth and creamy. Reduce mixer speed and beat in eggs and extract.
By hand, stir in the flour mixture until just combined. Stir in the butterscotch chips and nuts.
Spread batter into the prepared pan and bake for 45 (check at 35) minutes, until golden brown. Let cool, then lift from pan cut into squares
Related posts: