Here's a recipe for "Gigantic Peanut Butter Chocolate Chunk Cookies", and as you can see this is an old post with photo that desperately needs updating.
Update:  It's updated!  Read on.
I've been making these for years now and they are delicious.  They have the usual dry-ish, crumbly inside of peanut butter cookies, but it's a good dry-ish — unless you use too much flour, then it would probably be a bad dry-ish.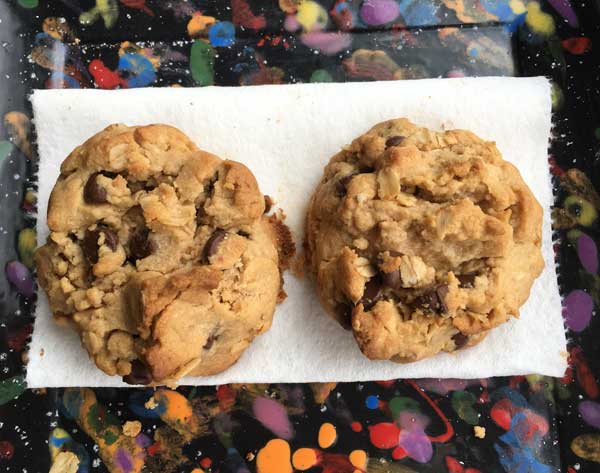 They're very thick, though the amount of spread might vary depending on factors like what kind of butter you use (European style makes them thicker), how much you pack your brown sugar or how much moisture it has in the first place, how big your egg is and what kind/brand/bleached vs. unbleached of flour you use. But even with all those factors, these are still hard to screw up.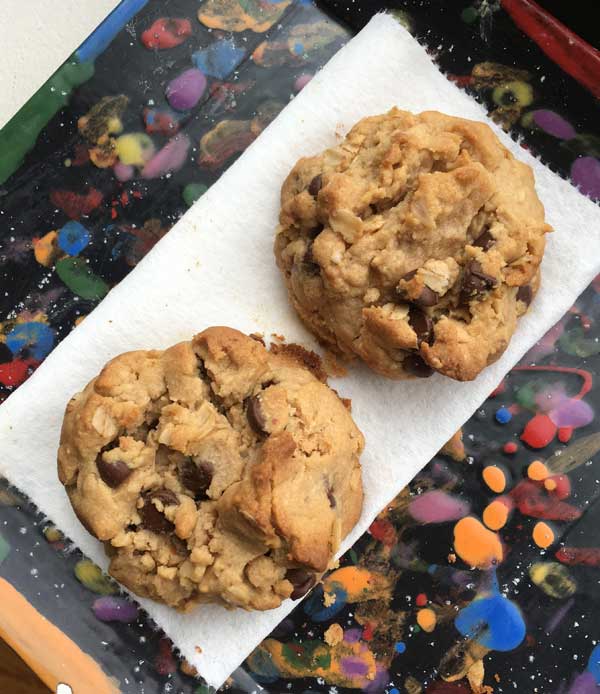 Gigantic Peanut Butter Chocolate Chunk Cookies
Giant Peanut Butter Chocolate Chunk Cookies. For even rounder and fatter cookies, chill the shaped dough balls overnight. Also, weigh your flour or really stir it and aerate it before measuring it in the cup. Too much flour makes cookies dry.
Ingredients
1/2 cup butter, melted (I use Plugra for thicker cookies)
1 cup chunky peanut butter, softened, (9 oz by weight) -- See Note
1/2 cup brown sugar
1/2 cup white sugar
1 egg
1 teaspoon vanilla
1 1/2 cups bread flour, spoon carefully into cup or weigh out 6.8 oz
1/2 teaspoon soda
1/2 teaspoon baking powder
1/2 teaspoon salt
1/2 cup old fashioned oats
6 oz dark chocolate cut into chunks or 1 cup (or more) of dark chocolate chips
Instructions
In a large bowl, stir together melted butter, peanut butter, brown sugar and white sugar. Stir in the egg and vanilla.
Mix together the bread flour, baking soda, baking powder, and salt and stir into sugar mixture. Stir in oats and chocolate chunks (or chips)
Using a packed quarter cup measure, shape dough into balls and place on a dish. Chill shaped dough balls for about an hour.
Preheat oven to 350 degrees F.
Line a cookie sheet with parchment and place dough balls about 3 inches apart on cookie sheet. Bake cookies for 15-17 minutes, covering loosely with sheet of foil (if necessary) after first 10 minutes to prevent over browning. Remove from baking sheet and let cool completely. Makes about 12 cookies.
Notes
I've found that using a combination of European style butter (such as Plugra) and Peter Pan Simply Ground, a peanut butter made of of very finely ground peanuts, gives me thicker cookies.
Related posts: