I make the Alton Brown Chewy Chocolate Chip Cookies for people who like their cookies dense, chewy and kind of soft (but not cakey). The recipe calls for bread flour.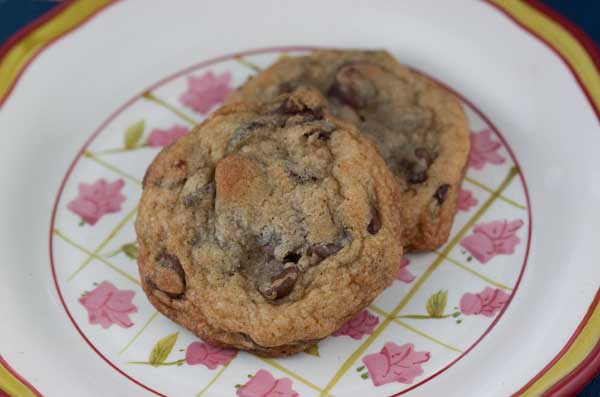 Alton Brown's "The Chewy" Chocolate Chip Cookies
Adapted from a recipe by Alton Brown, bread flour gives these cookies a nice shape -- solid on the outside and kind of soft and dense throughout. They're chewy rather than crunchy, but shouldn't be cakey.
Ingredients
2 sticks unsalted butter (230 grams)
2 1/4 cups (290-300 grams) bread flour
1 teaspoon kosher salt
1 teaspoon baking soda
1/4 cup sugar
1 1/4 cups brown sugar
1 egg
1 egg yolk
2 tablespoons milk
1 1/2 teaspoons vanilla extract
2 cups semisweet or bittersweet chocolate chips
Instructions
Melt the butter in a medium saucepan over low heat. Let it cool slightly.
Meanwhile, mix together the flour, salt, and baking soda; set aside.
Pour the slightly cooled melted butter in a mixing bowl. Add the sugar and brown sugar. Cream the butter and sugars on medium speed of an electric mixer. Add the egg, yolk, 2 tablespoons milk and vanilla extract and mix until well combined.
Add the flour mixture and stir by hand until thoroughly combined. Stir in the chocolate chips. Chill the dough just until it is thick enough to scoop, then using a 1/4 cup measure, drop big gobs of dough onto a parchment lined plate or cookie sheet and let the gobs of dough chill for several hours or until very firm.
Preheat oven to 375 degrees F. Arrange chilled dough gobs about 6 per sheet.
Bake for about 14 minutes or until golden brown, checking the cookies after 5 minutes. Rotate the baking sheet for even browning. Cool completely and store in an airtight container.
Related posts: