I collect recipes. Some are typical, others are crazy, and there are some that I hold on to because they were given to me by my grandmother or mother who were so inspired by the recipe they clipped it or asked for it. Hershey Bar Pie is one of those recipes.
My mother tasted Hershey Bar Pie at a party and came home raving about it. I was a teenager at the time and going through a phase where I found this type of dessert unappealing. My mom never got around to making the pie, but she put it in her file which she eventually handed over to me.
What led me to finally make the pie is that I'm on this Hershey with Almond bar kick. I still prefer to eat the chocolate straight from the wrapper, but my husband likes cream pies so this was a way to get him in on the Hershey Bar with Almond action.
This is not a fancy dessert and the chocolate is milk, so you raging chocoholics may find it a bit lightweight in that department. But my mother loved it and my husband loves it and all these people loved it too. So here's the recipe as I made it. I might try it with dark chocolate next time, but might not since others liked it so much. It was fun to make, that's for sure.
Note about photo: This was taken yesterday when the pie was only 4 hours old. Today it is firmer and more attractive.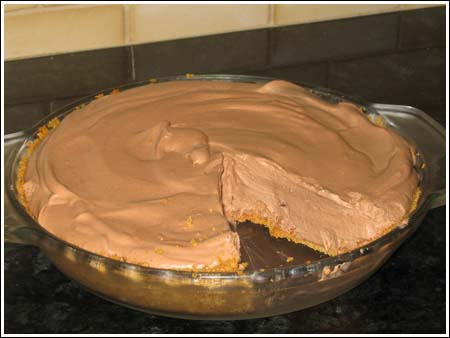 An easy chocolate cream pie where marshmallows stand in for gelatin
Ingredients
1 prepared graham cracker crust, store-bought or home-made
1/3 cup milk
16 large marshmallows, Jet Puffed!
6 Hershey Milk Chocolate Bars with Almonds (somewhere around 9 oz)
1 cup heavy whipping cream
1/2 teaspoon vanilla
Instructions
In a double boiler or a bowl set over a pot of water, combine the milk and marshmallows. Heat, stirring occasionally to mash marshmallows, until marshmallows are partially melted. Add Hershey Bars and stir often until everything is melted. Remove from heat and let cool completely (about an hour)
In a bowl (preferably metal), whip the cream until fluffy. Stir in the vanilla. Fold the whipped cream into the cooled chocolate mixture, scoop it put all in the pie shell.
Chill for 4 hours or even better, overnight. If you are using a smallish store-bought graham cracker crust, it may not all
Notes
Quick Notes *Homemade Graham Crust: Mix together 1 ¼ cups graham cracker crumbs, 3 tablespoons sugar, 6 tablespoons melted butter. Press into a greased 9 inch glass pie plate and bake at 350 for 8 minutes. Cool. Variations You can use dark chocolate
Related posts: