I was craving chocolate chip cookies and decided to try a recipe out of The Figs Table. My favorite recipes from the book are in the pizza and pasta categories, but there are also some great desserts, one of which is the white chocolate challah pudding, which is now my benchmark for bread pudding.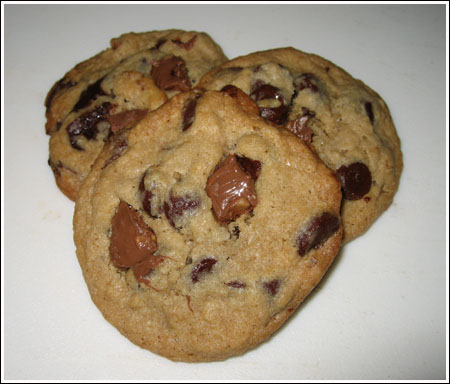 Given this book's history, I figured these cookies would be awesome. They have the perfect level of sweetness, light crisp edges and soft centers. They're also packed with chunks of chocolate and nuts. The oats, which are completely pulverized, add depth and flavor, but aren't really recognizable in the cookie.
Here are the cookies……still hot.
Chocolate Chip Cookies With Ground Oats
Hearty chocolate chip cookie made with ground oats and lots of nuts.
Ingredients
1 cup walnut or pecan pieces
20 tablespoons (285 grams) unsalted butter, room temperature
1 cup (200 grams) light brown sugar, packed
1/2 cup (96 grams) granulated sugar
1 1/2 teaspoons vanilla extract
1 teaspoon lemon juice or 2 teaspoons espresso powder dissolved in 1 tablespoon water
1 large egg
1 large egg yolk
2 cups all purpose flour
1 teaspoon (5 ml) baking powder
1 teaspoon (5 ml) baking soda
1 teaspoon (5 ml) kosher salt (Morton brand, if using Diamond you'll need more)
1 cup (90 grams) rolled oats, pulverized in food processor (measure 1 cup before pulverizing)
3 cups any combination of semi-sweet, bitter sweet chocolate chunks (T.E. includes white chunks and milk chunks)
Instructions
Toast the nuts in a large skillet and let them cool completely.
Using an electric mixer, cream the butter and both sugars; Beat in the vanilla, then beat in your choice of 1) lemon juice or 2) dissolved espresso. I used lemon juice. Add the egg and egg yolk and beat just until eggs are until blended into the batter.
In a separate bowl, thoroughly stir together the flour, baking powder, baking soda and kosher salt. Add the flour mixture to the batter and mix just until well-blended. Add the oats to the batter and stir just until blended. Stir in the cooled chopped nuts and chocolate
Chill the dough for at least an hour
Preheat oven to 325 degrees F.
Spoon large tablespoonfuls of dough 3 inches apart onto ungreased cookie sheet; bake one sheet at a time for 13-15 minutes or until cookies are brown around edges but still soft in the middle. Allow them to sit on the cookie sheet for 3 minutes, then transfer to a rack to cool.
The yield is supposed to be 48 cookies, but I tend to make mine slightly larger and wind up with fewer.
Related posts: