It's been quiet here. Not literally, because there are always kids yelling and stomping; but nothing very interesting has happened, so I've decided to make my own excitement by planning a mid-August trip to Las Vegas. If you have any Vegas tips, send them my way. I've never been and am enjoying the process of making plans. I'm taking my mom, who went once but stayed at a bad hotel, didn't gamble, and just didn't have any fun, period. She's pretty excited about this trip, so I need to plan well.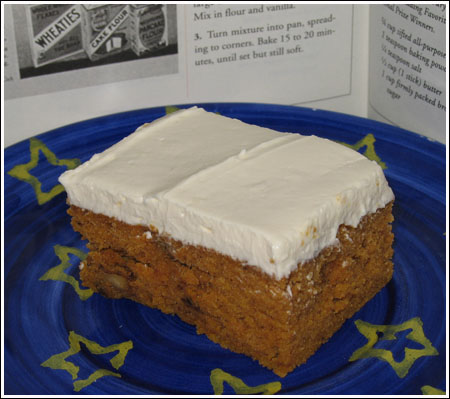 So what does Las Vegas have to do with cookies? Absolutely nothing! Then again, maybe it does. See, I've been gambling with recipes – trying strange things with tofu and protein powder and messing around with new ingredients. I've blown a lot of money in the kitchen this week and needed to make something tried and true. Enter this recipe for Pumpkin Bars. It's from The American Century Cookbook by the intrepid and brilliant Jean Anderson who says the recipe was developed by White Lily – the company that makes the soft wheat flour.
The only changes I made were to halve the recipe, bake it in a 9 inch square pan and add boiled frosting. If you plan to make this for a big group, double it and bake it in a 15×10 inch pan. These bars are dense, moist, soft and cake-like. Pumpkin Bars are the perfect excuse to whip up a batch of the exciting boiled frosting we talked about earlier, but would also be good frosted with a basic cream cheese frosting. Or, you can serve them as is.
Pumpkin Bars with Boiled Frosting
1 cup sifted all purpose flour, spooned and swept carefully
1 teaspoon baking powder
1/2 teaspoon baking soda
1/2 teaspoon salt
1 teaspoon cinnamon
1 cup pumpkin (canned)
2 large eggs
3/4 cup sugar
1/2 cup vegetable oil
1/3 cup toasted walnut pieces
Boiled Frosting:
1 1/2 tablespoons flour
1/2 cup milk
8 tablespoons butter (salted) add pinch of salt if using unsalted
1/2 cup granulated sugar
1 teaspoon vanilla extract
Preheat oven to 350 degree F. Line a 9 inch metal pan with nonstick foil or spray with cooking spray.
Stir or sift together the pre-sifted flour, baking powder, baking soda, cinnamon and salt. Set aside.
In another bowl, stir together pumpkin, eggs, sugar and oil. Beat until well mixed.
Stir flour mixture into pumpkin mixture. Stir in toasted walnuts. Spread batter in pan and bake for 25 minutes or until cake springs back and seems done.
Let cool on a rack While cake is cooling, begin preparing the icing.
In a small but heavy saucepan, whisk together flour and milk. Turn heat to medium and cook, whisking constantly, until mixture thickens and becomes gravy-like. Remove from heat and let cool completely.
In a mixing bowl, beat butter and sugar until fluffy. Beat in vanilla. Beat in cooled milk/flour mixture then beat and beat and beat with an electric mixer until the graininess goes away.
Spread over bars. Cut however many you want…..I cut 16 really small pieces, but 12 is more practical.
Related posts: