My trip report is coming along slowly due to a bunch of other things on today's agenda, but I should have something by tomorrow. It was a great trip and we did try a few very good restaurants. I finally made it to Chelsea Market too, but I'll talk about that later. For now, here's today's cookie. I felt like making something this morning, but we had very little food in the house and I needed a recipe which called for the basics. Chocolate Crackle Cookies to the rescue! This is one recipe you can always fall back on. It also happens to be one of C&H sugar's most requested.
I did add one twist. Since I had a bag of Hershey's cinnamon chips, I used cinnamon chips instead of walnuts. Given how delicious the combination of cinnamon chips and chocolate was, I'd do it again. Here's C&H's recipe, but with a twist for those who like cinnamon.
Sorry about this picture.  I'll try to take a better one later, but I'm flying by the seat of my pants today.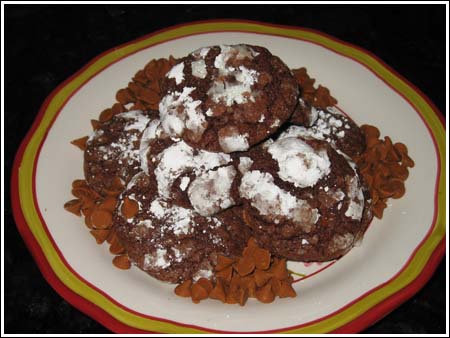 Cinnamon Chip Chocolate Crackle Cookies
2 oz unsweetened chocolate, melted and cooled
1/4 cup vegetable oil
1 cup C&H Pure Cane Granulated Sugar
2 eggs
1 tsp. vanilla
1 cup all-purpose flour
1 tsp baking powder
1/4 tsp salt
1/3 cup cinnamon chips (use more if desired)
C&H Pure Cane Powdered Sugar (about 1/4 cup)
With electric mixer beat chocolate, oil and granulated sugar until blended. Beat in eggs, one at a time until incorporated. Add vanilla. Combine flour, baking powder and salt; stir into sugar mixture. Stir in cinnamon chips. Chill for about 1 hour or until firm enough to roll into balls.
Preheat oven to 350°F.
Shape dough into rounded teaspoonful size balls (about an inch in diameter) then roll in powdered sugar.
Place on non-stick cookie sheet. Bake 10 to 12 minutes. Cool on rack.
Makes 3 dozen
Related posts: