For the past twenty years, I've been making this almond toffee.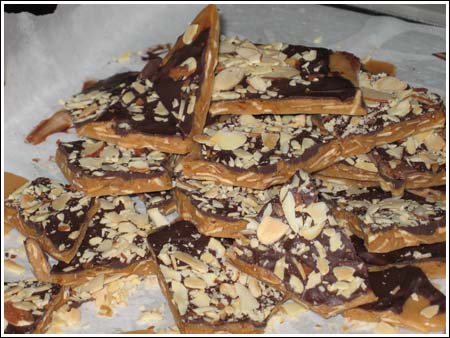 I don't particularly enjoy making it, but because it's pretty much the best thing I make, people request it around the holidays.  With the exception of my dad, who likes the toffee in a plain, unlabeled tin so he can hide it from my step brother, most people don't care how it's packaged. But I take pride in my toffee and want it to look nice. Martha Stewart to the rescue.
Earlier in the year I pointed out her new line of Cookies and Treats packages which are cute and kind of fun for packaging items baked throughout the year.  But it's November, and now Martha's treat bags and boxes are a necessity.
Along with boxes and bags, the Martha Stewart line includes all sorts of ribbons, stickers, hole punches, cards, and fancy papers to dress up your packaging. It might seem a bit overwhelming at first, but once you start playing with a few things, you'll see how easy it is and be happy you have so many thing from which to choose.
The boxes I used today practically built themselves by coming together in a few folds. This is not a beautiful picture, but it gives you an idea of what they look like in various states.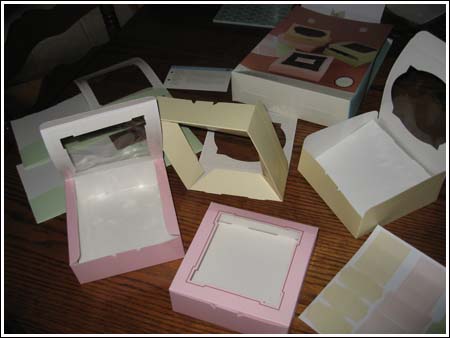 Here's the final product. This is the rudimentary 2-minute box and label. With a little more time, you can embellish to your heart's content…..and I plan to. But right now I smell like brown butter and sugar and want the fastest form of cute packaging possible.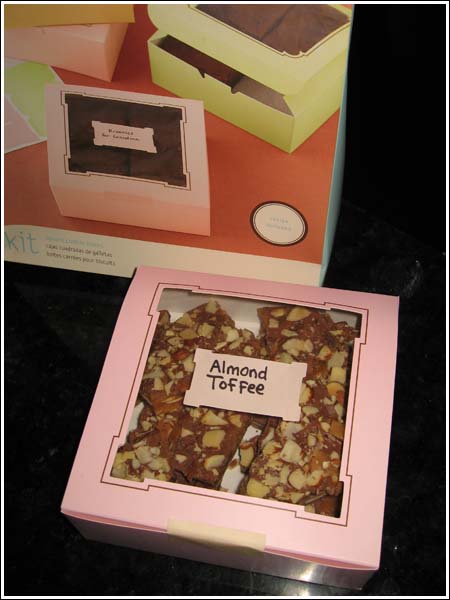 Related posts: