Every year Southern Living Magazine has a cook-off. Thousands of people send in entries, but, only 15 of them are invited to the cook-off to compete for the prize of $100,000. In the past, the grand prize has gone to a pecan pie stuffed cheesecake, a shrimp/watermelon salad, a mocha cheesecake, a stuffed pan fried chicken dish and roasted banana ice cream. Those are off the top of my head and not in the right order, but you get the idea.
Back in 2003, Southern Living put out a cookbook featuring recipes that scored high in the test kitchen, but didn't make it to competition. The book is called Southern Living Cook-Off Cookbook

and it's one of my favorites because the recipes are unique and homegrown. They're rough in that some have way too many ingredients or call for odd sized pans or needed a touch of "something" from the test kitchen to be perfect, but the recipes in the book have the test kitchen's suggestions/fixes written in, so that when you make the recipe at home, it will be perfect.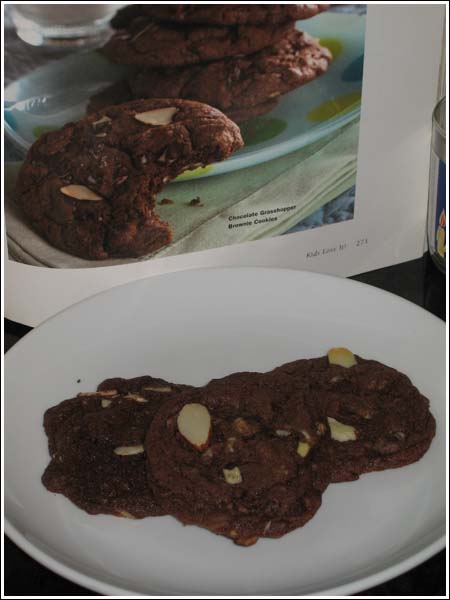 These Grasshopper Brownie Cookies didn't win a prize, but were definitely a winner with me. I chose the recipe because I liked the name and because I had some Andes mint chips to use, but based on how good these were, I'll be making them again. Here's the recipe, which was submitted by Karen Hildreth. I re-ordered the ingredients, used unsalted butter and toasted the almond slices, but that's it.
Chocolate Grasshopper Brownie Cookies
2 1/4 cups all purpose flour (10 oz)
1 teaspoon baking soda
1/2 teaspoon salt
1/2 cup natural unsweetened cocoa powder (Dutch not recommended)
2 sticks (8 oz) unsalted butter
3/4 cup packed brown sugar
3/4 cup granulated sugar
1 teaspoon vanilla
2 large eggs
10 oz bag Andes mint chips
1/2 cup sliced almonds, lightly toasted and cooled
Preheat oven to 350 degrees F.
Stir together flour, baking soda and salt. Add cocoa to dry mixture.
In mixing bowl, cream the butter with both sugars. Beat in the egg and vanilla. By hand or using low speed of mixer, stir in the flour mixture. Fold in the chips and nuts.
Drop mixture by rounded tablespoonfuls onto ungreased cookie sheets. Bake 10-12 minutes. Cool 2 minutes on cookie sheet then transfer to rack to finish cooling.
3 Dozen
Related posts: