"Large Chocolate Chip Cookies" were inspired by my new favorite cookbook, Desserts by the Yard
. It starts with desserts from Sherry Yard's life as a girl growing up in Brooklyn, then moves on through her life as a young pastry student and chef to her current status as the pastry queen of Beverly Hills. It's such a fun read that the recipes are a bonus!
This cookie recipe was modeled after Sherry Yard's. I used most of her proportions, but went off on my own with the technique. In the book, she is quite detailed as to how things should be done, which is another good reason to buy the book — you will learn a lot.
If your cookies tend to come out flat, this is a good recipe to try. These were thick and dense and the dough was just backdrop to the chocolate. So if you make these, use good chocolate and a lot of it. I used Ghirardelli bittersweet chips. A cut up bittersweet chocolate bar would also work well.
One note. For my version, you definitely need either an electric mixer or a stand mixer because it calls for cold butter.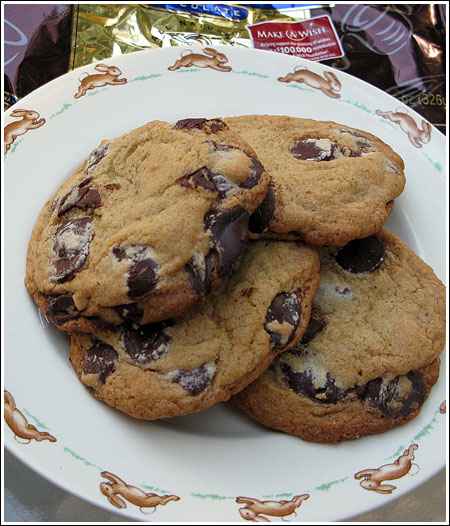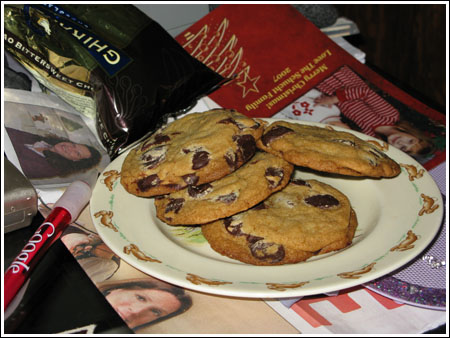 Large Chocolate Chip Cookies
1 1/2 cups all purpose flour (180 grams)
1/2 teaspoon baking soda (2.5 ml)
1/2 scant teaspoon salt (2.5 ml)
1 stick (115 grams) cold butter, straight from the refrigerator
1/2 cup brown sugar, packed (92 grams)
1/2 cup granulated sugar (98 grams)
1 teaspoon vanilla (5 ml)
1 large egg
1 (12 oz) bag Ghirardelli bittersweet chocolate chips or 12 ounces of chopped bittersweet chocolate
Preheat oven to 350 degrees F.
Cut the stick of butter into tablespoon size chunks. Microwave it for 10 seconds. It should not be soft, but it will yield a little bit easier than if it were stone cold. If you are using a stand mixer, you could probably skip that step and just let the paddle attachment attack the cut up butter.
In a mixing bowl or bowl of stand mixer, combine semi-cold butter and both sugars. With paddle attachment OR high speed of a good hand held mixer, beat butter and sugar until butter starts to soften from friction of sugar and beaters. It won't look smooth and creamy, but sugar will adhere to butter it will look lumpy and grainy. Beat in vanilla and beat until batter is slightly smoother, but still kind of rough. Add egg and beat until egg is incorporated (about 30 seconds).
By hand or using lowest speed of mixer, stir in flour mixture. When flour is incorporated, stir in the chocolate chips – this recipe has a high proportion of chocolate chips.
At this point, you can chill the dough, but it's not absolutely necessary. Scoop it up by very generous tablespoons and drop mounds onto ungreased cookie sheet spacing at least 3 inches apart.
Bake one sheet at a time on center rack of oven for 13-15 minutes, rotating sheet halfway through. Let cool on cookie sheet for about 3 minutes, then transfer to a wire rack to cool.
I'm not sure what the yield is quite yet because I baked 6 cookies and put the rest of the dough away.
Related posts: