Today's recipe was sent to me by Sue, who found it on some junk mail. It was originally called "Sugarless Oatmeal Cookies" but I find this misleading because bananas, milk and raisins all have natural sugars. Name issue aside, I was interested enough to make a quick batch this afternoon. To be safe, I used one banana and made 1/3 of the recipe below. I didn't have any raisins so I used Craisins in part of the batter and chocolate chips in the other.
These are pretty good. They're not really like cookies so much as little piles of baked banana oatmeal with add-ins…which could be a good thing for breakfast or snacks. I'll be interested in hearing what others think.
You may want start with 1/3 of a batch just to be safe.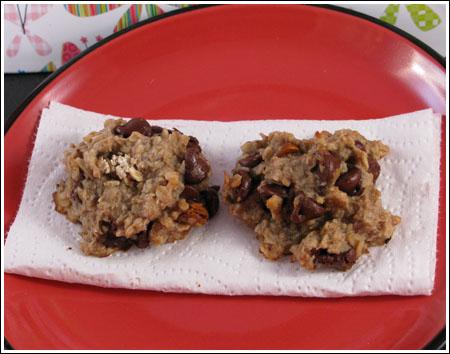 All-Natural Oatmeal Banana Cookies
All-Natural Oatmeal Banana Cookies made without refined sugar
Ingredients
1/3 c. butter (I used salted)
3 ripe bananas, pureed in blender or well mashed
2 c. uncooked quick-cooking oats – important to use quick cooking. Old Fashioned probably tastes too "oat-y"
1/4 c. skim milk – I omitted this completely because my batter was plenty moist
1/2 c. raisins – or Craisins or chocolate chips
1 t. vanilla extract
Instructions
Preheat oven to 350 degrees.
Melt butter or margarine in a microwave-safe mixing bowl.
Add all remaining ingredients, but watch the milk because you may not need all of it.
Let stand for about 5 minutes, until oats are wet.
Lightly grease a cookie sheet or line with nonstick foil.
For each cookie, spoon out about 1 T. of dough and drop it onto the greased cookie sheet.
Bake the cookies for 15 to 20 minutes.
Let cool on the cookie sheet for about 1 minute.
Move the cookies to wire racks or a towel to cool.
Serving Size: 2 cookies Yield: 15 servings
Per serving: 110 calories (40% from fat), 4.5 g total fat, 0 mg cholesterol, 35 mg. sodium, 17 g. total carbohydrate (2 g. dietary fiber, 7 g. sugar) 2 g. protein.
Recipe courtesy of U.S. Department of Agriculture
Related posts: