Every First Lady has a cookie recipe, and this one is supposedly Hillary Clinton's. She's not known for her baking skills, but apparently she picks good cookie recipes because these are delicious. Hillary Clinton's cookies are chocolate chip cookies with oatmeal in them. Instead of just butter, the recipe calls for a mixture of butter and butter flavored shortening. The shortening helps improve the texture.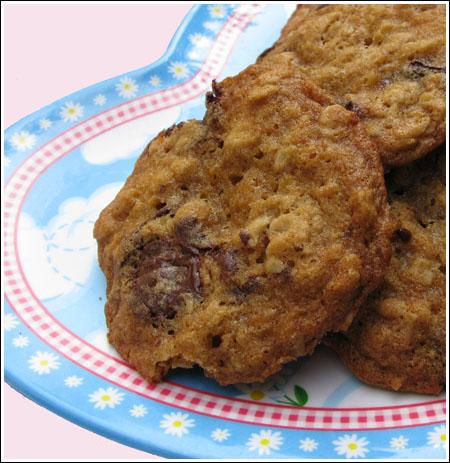 Hillary Clinton's Cookies
1 1/2 cups all-purpose flour
1 tsp salt
1 tsp baking soda
1/2 cup butter flavored shortening
1/2 cup butter, cut- up and kind of cold
1 cup firmly packed light brown sugar
1/2 cup granulated sugar
1 tsp vanilla
2 eggs
2 cups old-fashioned rolled oats
12 ounces of semi-sweet chocolate chips
Preheat oven to 350 degrees F.
Combine flour, salt and baking soda. Beat together shortening, butter, sugars and vanilla in a large bowl until creamy. Add eggs, beat until light and fluffy. Stir in flour mixture and rolled oats. Stir in chocolate chips. Drop batter by well-rounded teaspoonsful on to greased baking sheets. Bake 8 to 10 minutes or until golden. Cool cookies on sheets on wire rack for 2 minutes. Remove cookies to wire rack to cool completely.
Makes 6-7 dozen
Related posts: