If you are looking for a new cookie cookbook – something useful with recipes you can make at a moment's notice, Heather and Lucinda Wallace's new book Easy Peasy Recipes
is the perfect choice.
Heather and Lucinda sent me a free copy. I was surprised to find it didn't contain the usual stories, information about equipment, ingredients and sources; but I liked its straightforward "cut-to-the-recipe" approach. The collection includes hand picked, well-tested recipes for the types of cookies people really love with titles such as "Malted Milk Chocolate Brownies", "Root Beer Frosties," and "Pineapple Bars with Caramel Drizzle". For a glimpse of the other 98 recipes, you can view the index on the Easy Peasy Recipes web site.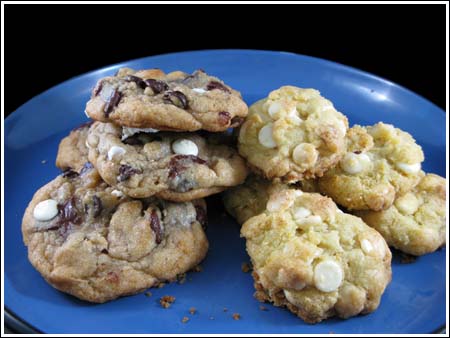 Colossal Double Chocolate White Chip Cookies
Makes about 2 dozen cookies.
4 cups all-purpose flour
1 teaspoon baking powder
1 teaspoon baking soda
1 ½ cups butter or margarine, softened
1 ¼ cups granulated sugar
1 ¼ cups packed brown sugar
2 eggs
1 tablespoon vanilla extract
1 cup milk chocolate chips
1 cup semi-sweet chocolate chips
½ cup white chips
1 cup chopped nuts
Preheat oven to 350ºF. In a medium bowl, stir together flour, baking powder, and baking soda. In a large bowl, cream together butter, granulated
sugar, and brown sugar. Beat eggs and vanilla extract into butter mixture. Gradually stir in flour mixture. Stir in milk chocolate chips, semi-sweet
chocolate chips, white chips, and nuts.
Drop by level ¼-cupfuls, about 2 inches apart, onto ungreased baking sheets. Bake for 12 to 14 minutes or
until light golden brown. Allow cookies to cool for 2 minutes on baking sheets, then transfer to wire racks to cool completely.
Related posts: