This pineapple cake recipe was passed down to me by my step-grandmother, Bessie. I've made it several times but never quite the same way. Bessie's original version used cake mix, so sometimes I use that too – the "butter flavor" cake mixes work the best. Sometimes I make the cake from scratch. Yesterday I used a scratch recipe off Recipezaar but wasn't too happy with it and will not point it out. Luckily, the topping made up for the lackluster cake and Todd loved it. In my opinion, it's the topping that makes this cake. It's a nice change from the usual frosting and pineapple lovers will go crazy for it.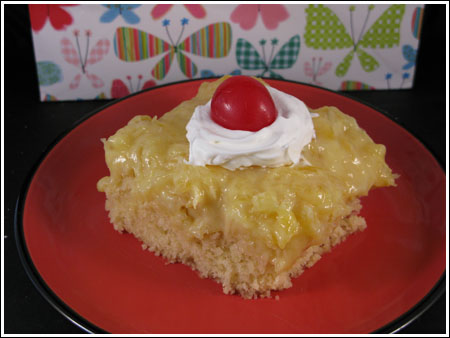 Pineapple Cake
Pineapple Cake Filling and Frosting
Ingredients
You choice of yellow or butter cake mix plus whatever is needed to make it
1 (20 oz) can crushed pineapple
4 ounces butter (1 stick) – regular salted type
5 oz can evaporated milk.
1 1/2 cups sugar
3 egg yolks, whisked together in a separate bowl
1 teaspoon vanilla extract
Instructions
Preheat oven to 350 degrees F. Spray a 13x9 inch metal cake pan with cooking spray.
Drain crushed pineapple and reserve juice. You should get about 2/3 cup of juice.
Prepare cake as directed on box or use your favorite scratch recipe for yellow cake or pineapple cake. My grandmother used a box yellow cake, but instead of using water as directed, she used half pineapple juice/half water instead of all water.
Set a large (3 quart) nonstick (heavy, insulated types work best) saucepan over medium heat and add butter. When butter is about halfway melted, add evaporated milk and sugar. Continue cooking over medium heat, whisking often, until butter is completely melted and mixture is hot and just beginning to simmer around the edges.
Add the egg yolks and continue cooking over medium, whisking constantly, until mixture boils and thickens. Cook and whisk for a little over a minute, then remove from heat and let cool for about 5 minutes. Add vanilla extract and drained pineapple. Leave pineapple mixture at room temperature (still in pan) while cake continues to bake and cools.
When cake is cool, pour room-temperature pineapple mixture over cake. Place in refrigerator and chill until pineapple topping sets.
Related posts: