Back in the early eighties, before I developed the freakish encyclopedic knowledge of calories I have today, I was forced to rely on recipes with built-in nutrition counts. This was the very early eighties and recipes with calorie counts were hard to come by. The best source at the time was Jeanne Jones, whose book The Calculating Cook cut calories, sugar and fat and listed values next to each recipe. Cooking Light came into the picture a bit later and expanded my repertoire ten-fold, but in my mind Jeanne Jones will always be the queen of light cooking.
Today's recipe, or at least the original version, is from Jeanne Jones. I got it from my friend Shirley who made it a few days ago for a healthy living group. Their last topic was "Food" and for an activity, they all brought in lightened dessert recipes. The raspberry bars were Shirley's contribution and they were a hit.
Shirley adjusted Jeanne's recipe slightly – a bit more butter, a bit less white chips. All adjustments are reflected in the nutrition count, which I got from Mastercook. Even with the extra butter, the fat still comes in around 34%. Not bad for something so delicious.
I used Ghirardelli White Chips and they tasted great. They do tend to turn brown, though. So what I did was put about half of them in the crumb batter as directed, then sprinkle half on top of the hot, fresh-out-of-the-oven bars. Looking at this picture, I'm not so sure that was a good idea.  Anyway, they taste good!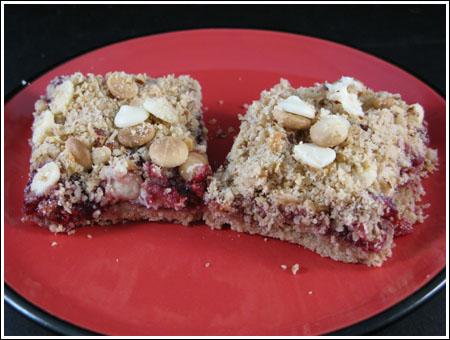 Raspberry Streusel Bars
1-1/4 cups quick oats , uncooked
1-1/4 cups all purpose flour or the new "white whole wheat"
1/2 cup packed brown sugar
1 teaspoon baking powder
1/4 teaspoon salt
6-1/2 tablespoons butter, melted
2-1/2 tablespoons water
1/4 cup toasted chopped almonds
1 cup raspberry all-fruit spread
1/2 cup white chocolate chips
Preheat the oven to 350 degrees F. Lay the almonds on a cookie sheet and roast them for 5-7 minutes or until lightly browned. Remove from oven and let almond cool. Keep oven at 350.
Spray an 8-inch square pan with nonstick spray or line with non-stick foil.
In large bowl (or food processor) combine oats, flour, brown sugar, baking powder and salt. Combine butter and water; add to flour mixture. Mix until crumbly. Reserve 1 cup of this mixture. Press remaining mixture into bottom of prepared pan and bake for 10 minutes.
Spread the raspberry fruit evenly over baked crust to 1/4 inch of edges.
Chop the toasted, cooled almonds and mix them with the reserved 1 cup of crumbs and the white chips. Sprinkle over the fruit spread. Return to oven and bake for 30 more minutes. Let bars cool before cutting into squares.
Makes 16 servings
Mastercook Values:
Per Serving (excluding unknown items): 221 Calories; 8g Fat (33.6% calories from fat); 3g Protein; 34g Carbohydrate; 1g Dietary Fiber; 13mg Cholesterol; 128mg Sodium. Exchanges: 1 Grain(Starch); 0 Lean Meat; 1/2 Fruit; 1 1/2 Fat; 1/2 Other Carbohydrates.
Shirley's Note: I usually cut into the 16 squares and then cut each square diagonally = 32. I used white whole wheat flour.
Related posts: