I probably won't be making this today, but it sounds like a good last minute St. Patrick's Day Cake.  Update:  I eventually did make the Irish Cream Cake and it was a winner.  The cake starts with an 18.25 oz box of cake mix.  I have not yet tested this with the new smaller size boxes of cake mix.  According to Ann Byrne, The Cake Mix Doctor, adding an extra 1/3 cup of flour should do the trick, while other cake mix users suggest buying an extra box of cake mix and just weighing out enough mix to make 18.25 oz.  You can keep the remaining cake mix store in a freezer bag until ready to use in your new cake.  I'll update this when I find my favorite method.  An alternative that would definitely work would be to make an easy scratch chocolate cake (I like Hershey's Perfectly Chocolate Cake) and then make the Irish Cream flavored filling as directed here.  Or you could try one of the new and improved chocolate cake mixes without any embellishments and just make the Irish Cream filling.  The cake mix companies are always trying to improve their product, so maybe the new mixes don't need so many add-ins.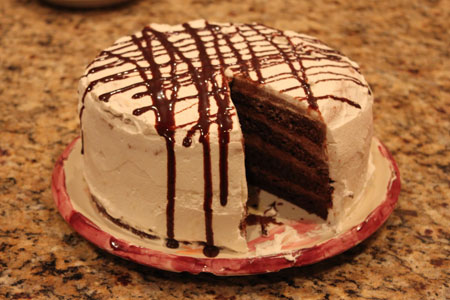 Chocolate Irish Cream Cake
Cake:
1 (18.25-ounce) package chocolate cake mix
1 (4 serving sizes) package chocolate instant pudding mix
4 large eggs
1/2 cup Bailey's or other type Irish Cream
1/2 cup cold water
1/2 cup vegetable oil
1/2 cup slivered almonds (optional)
Filling:
1 1/2 cups cold milk (2% okay)
1/2 cup Irish cream liqueur
1 (4-ounce) package chocolate instant pudding mix
1 (5.2-ounce) package whipped topping mix – (contains 4 envelopes) (Dream Whip)
Chocolate curls (optional)
Preheat oven to 350 degrees F. Spray 2 9 inch round cake pans with flour-added cooking spray such as Baker's Joy.
Combine all cake ingredients together in a large bowl and beat at medium mixer speed for 2 minutes. Pour into prepared pans. Bake for 20 to 25 minutes. Do not over-bake. Cool in pans 10 minutes on wire rack. Remove from pans and finish cooling on racks.
Prepare filling: Combine all filling ingredients in a mixing bowl and blend well at high speed for 4 minutes or until light and fluffy.
Split layers in half. Spread one cup filling between each layer and on the top layer. Garnish with chocolate curls, if desired.
Makes 12 servings.
Cook's Note: For more of the Irish cream liqueur flavor in the filling,
decrease the amount of cold milk to 1 cup and increase the amount of
Irish cream liqueur to 1 cup.
Related posts: