Last night Todd and I watched No Country for Old Men. I had no idea what it was about but based on all the clips I'd seen, I figured it would be good, if not a little dark and creepy. Javier Bardem is my new favorite actor.
But back to "dark and creepy", the view out my window this morning has been rain, rain, rain, so I stayed inside and did a few experiments. The first was to make a more mellow, less twangy version of the Nutella Bars. Version One was very good, but version Two has less of a sour cream flavor. Here's the new formulation.
The other experiment was Tofu Carrot Cookies. I'll get to those later.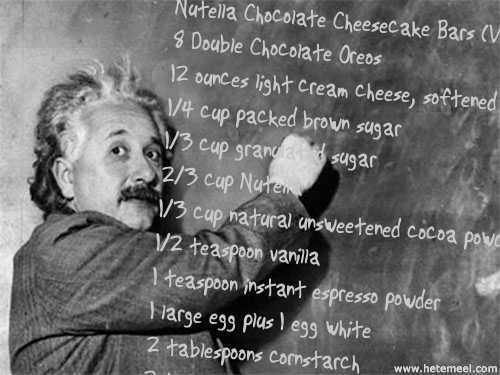 Nutella Chocolate Cheesecake Bars Take 2
Chocolate cheesecake and hazelnut bar cookies with a chocolate cookie crust.
Ingredients
8 Double Chocolate Oreos
12 ounces light cream cheese, softened
1/4 cup packed brown sugar
1/3 cup granulated sugar
2/3 cup Nutella
1/3 cup natural unsweetened cocoa powder -- Or -- Dutch (Hershey's Dark)
1/2 teaspoon vanilla
1 teaspoon instant espresso powder
1 large egg plus 1 egg white
2 tablespoons cornstarch
2 teaspoons Frangelico (optional, but good)
1/3 cup chocolate chips
Instructions
Preheat oven to 325 degrees F. Line the inside of an 8 inch square metal pan with non-stick foil.
Process cookies into crumbs and press into bottom of pan.
Wipe processor bowl clean and add cream cheese; Process until smooth, scraping side of bowl as needed, then add both sugars, Nutella, cocoa powder, vanilla and espresso powder; process until well mixed. Scrape sides of bowl and add egg, egg white and cornstarch and pulse to mix, then add Frangelico and pulse to mix again. Pour over cookie crust and sprinkle top with chocolate chips.
Bake on center rack for 35-40 minutes. Cool completely in pan then refrigerate for a few hours or until well-chilled. Grasp foil, lift from pan, place on a cutting board and slice into 8 bars.
Makes 8 bars or 16 squares
(Thanks Make Einstein Write What You Write for picture)
Related posts: