I love traveling overseas and seeing all the products and brands specific to that country. Having only been to Mexico and England, my scope is limited, but a lot of grocery stores now have import sections and it's making the word feel like a smaller place. For instance, our grocery store has a section with products from Holland. There's a small section of Israeli foods and a whole aisle of Asian foods. We have a UK section as well, where if I felt like it, I could pick up a bottle of HP steak sauce, Cadbury chocolates, clotted cream and Lyle's Golden Syrup. Speaking of which, these brownies are made with Lyle's Golden Syrup. The syrup and the brown sugar add a tiny hint of caramel flavor to what is actually a very chocolaty brownie. If you can't find Lyle's, you can use regular corn syrup or even the new brown sugar flavored corn syrup.
One last thing. These brownies are soft and fudgy, but sturdy enough to wrap individually. Chilling them ensures they will cut quite nicely. I'm not in love with this picture, but it illustrates how easy these are to wrap.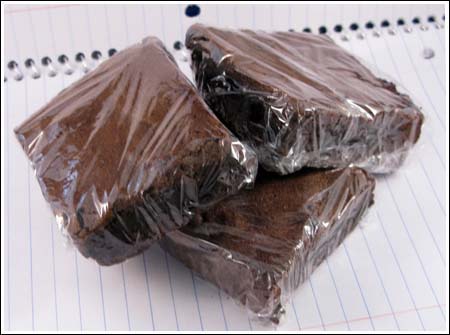 Fudge Brownies With Golden Syrup
Golden syrup (or corn syrup) makes these brownies slightly chewy. They're perfect for wrapping and selling at bake sales or carrying along on picnics.
Ingredients
1 cup all purpose or white whole wheat flour (128 grams)
2 tablespoons European Style cocoa powder (30 ml)
1/8 teaspoon salt (pinch)
4 ounces unsweetened chocolate, cut up (114 grams)
4 ounces unsalted butter, room temperature (1 stick) – 114 grams
1 cup granulated sugar (198 grams)
1/2 cup light or dark brown sugar, lightly packed (100 grams)
1 teaspoon vanilla extract (5 ml)
1/3 cup golden syrup or corn syrup (80 ml)
3 large eggs
1/2 cup bittersweet chocolate chips
Instructions
Preheat oven to 350 degrees F. Line a 9 inch square metal pan with foil and spray foil with cooking spray.
Sift together flour, cocoa powder and salt. Set aside.
Melt chocolate in top of a double boiler or melt in a metal bowl set over (but not touching) a saucepan of barely simmering water.
Beat butter and both sugars in a large mixing bowl using high speed of an electric mixer. Beat in vanilla and golden syrup. When creamy, beat in eggs, beating thoroughly after each egg.
Beat in the melted chocolate, scraping sides of bowl.
Add flour mixture and chocolate chips, stirring until flour is blended in (do not beat).
Pour batter into prepared pan and bake on center rack of oven for 35 minute or until brownies appear set. Cool on a rack for 1 hour or until brownies are cool enough to transfer to the refrigerator. Transfer to the refrigerator and chill for 1 or 2 hours.
Lift brownies from pan by grasping foil. Place on a cookie sheet and cut into squares.
Makes 16 small or 9 large
Related posts: