If all goes well, I'll have a few different recipes today. So far, I just have one, and it happens to be something I mentioned a few months ago – Ginger Toffee Cookies, made with Bits o' Brickle. Bits o' Brickle is not one of my favorite ingredients because I hate things that stick to my teeth. Luckily, in this recipe, they aren't too sticky. They just add a nice crunch to a flavorful and spicy cookie. I followed the recipe as written on link….
….but used 1/4 cup shortening and 1/2 cup butter rather than all butter and threw in a dash of cayenne. I also rolled the cookies in sparkly sugar because I like how it looks (and forgot to buy turbinado).
So I've wrapped the dough tightly, set it in the freezer and will thaw and bake it Saturday AM.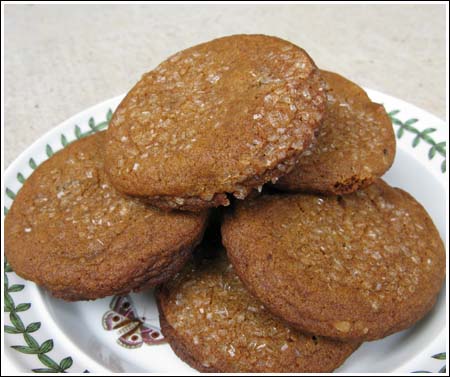 Related posts: