Things got pretty busy this afternoon, but I crammed a lot of baking in this morning so there is another cookie for today. This was experimental, but I think I achieved what I was trying to do in one shot because even though these vegan breakfast cookies taste healthy, the people who tried them liked them and said they were good and worth posting.
I put the recipe into Mastercook and the nutrition stats aren't bad. The cookies get about 1/3 of their calories from fat and have a decent amount of fiber for 1 cookie.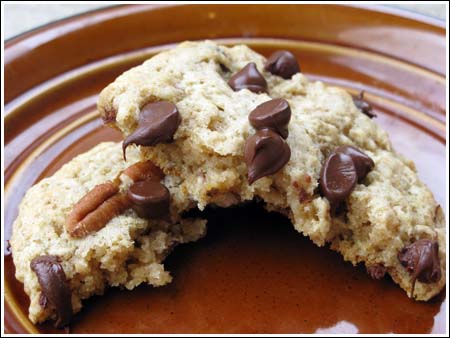 Oatmeal Chocolate Chip Vegan Breakfast Cookies
2 1/2 tablespoons ground flax seeds
1/4 cup plus 2 tablespoons water
1 cup evaporated cane juice crystals (granulated sugar okay)
1 cup rolled oats
2 cups white whole wheat flour (spoon and sweep – 9 oz)
1 1/2 teaspoons baking soda
1/2 teaspoon baking powder
1 scant teaspoon salt
1/3 cup vegetable oil
2 tablespoons maple syrup
2 teaspoon vanilla extract
1/4 cup water
2/3 cup vegan chocolate chips or about 4 oz good chocolate, cut into chunks
1/2 cup chopped toasted walnuts or pecans
Preheat oven to 350 degrees F (175 degrees C).
Line a cookie sheet with parchment paper or Silpat.
In a large mixing bowl, stir together ground flax seeds and water and let stand while mixing other ingredients.
In food processor, process cane juice crystals and oats until mixture is fine. Add flour, baking soda, baking powder and salt and pulse to mix.
To bowl with flax mixture, add the oil, maple syrup, vanilla and water. Mix until well blended, then add flour mixture and stir together to make a thick dough; try not to over-handle it. Add chocolate chips and nuts.
Using about ¼ cup measure, scoop up dough and shape into a balls. Press the balls into large rounds 2 inches wide by about 3/4 inch tall. Place about 2 1/2 inches apart on cookie sheet and bake for 12 minutes. Cookies should look set, but should appear a bit soft and underbaked. Let them sit on the cookie sheet for 5 minute, then transfer to a wire rack to finish cooling.
Makes 16 big cookies
Without Nuts
211 Calories; 8g Fat (31.6% calories from fat); 4g Protein; 34g Carbohydrate; 3g Dietary Fiber; 0mg Cholesterol; 269mg Sodium.
With Nuts
224 Calories; 9g Fat (34.6% calories from fat); 4g Protein; 35g Carbohydrate; 3g Dietary Fiber; 0mg Cholesterol; 269mg Sodium.
Related posts: