It was a busy morning. I took the cat to the dentist, took myself to the dentist, went to the gym, then came home to tackle a cookie I'd been looking forward to making all morning – Rob's Radical Chocolate Chip Cookies. Again!
If you didn't catch the previous post, the news is that the recipe on Food TV was posted with a typo that read "2 cups Baker's Sugar" instead of "1/2 cup Baker's Sugar". People who made the cookie were shocked by the sweetness and awed by the fact that it not only won its category, but even made it to the show at all. Meanwhile, we all felt bad about this because Rob seemed like such a nice guy.
Last night, a Cookie Madness friend mentioned Rob himself had recently posted a review letting everyone know of the typo. The correct amount of baker's sugar is 1/2 cup — which may or may not be corrected on the original version when you read this.
Here's a picture of the new improved cookie. They were delicious! The crunchy texture we liked in the overly sweet cookie is gone, but this cookie is a good basic chocolate chip cookie. It's easy to make (no mixer required) and will be especially perfect for those who have trouble making thick cookies. Another thing I noticed was it has kind of a smooth, borderline shiny outside. If I'd used hotter butter, it might have been even shinier.
Also, I used the full 3 tablespoons vanilla and it worked out well. If you use a super strong vanilla, then you might want to reduce it.
And finally, if you can't find C&H brand Baker's Sugar, pulverized granulated sugar (1 minute in the processor) seems to work well. If you don't have a grinding apparatus, try superfine sugar.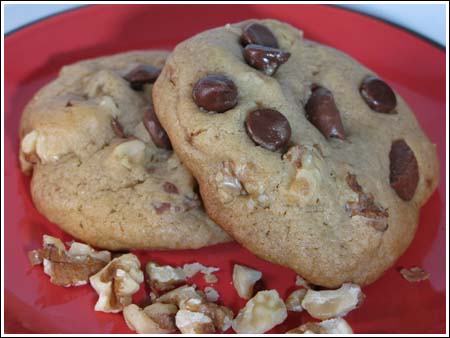 Related posts: