We have a lot of end-of-the-school-year events coming up. One of which is Track & Field Day, where kids spend most of the day outside competing in various sports events. Fuzz, who is turning out to be more of an art & music kind of girl, isn't that excited about it, so to make her feel better about playing sports all day, I'm going to help out a little in the concession stand. The way I understand it is the kids get little credit cards for purchasing snacks during track & field day. It sounds a little strange to me, but I guess it's a system that works. At any rate, I have an excuse to bake treats.
These Honey Cookies which took less than 10 minutes to pull together, are from Janet. She sent the recipe for Honey yesterday with a note saying it was given to her 30 years ago by a lady in Santa Maria, California. Since then it's been her family's favorite cookie. Who can say no to an intro like that?
End result was, as Janice promised, a cookie with the texture of a good crispy/chewy molasses cookie but with the flavor of honey. I am not a huge honey fan and was worried the kids might not like honey cookies either, but I loved how it tasted and am pretty sure the kids will too.
The full recipe makes about 7 dozen, but it's very easy to halve. And bonus. No mixer required! All you need is a bowl and a spoon.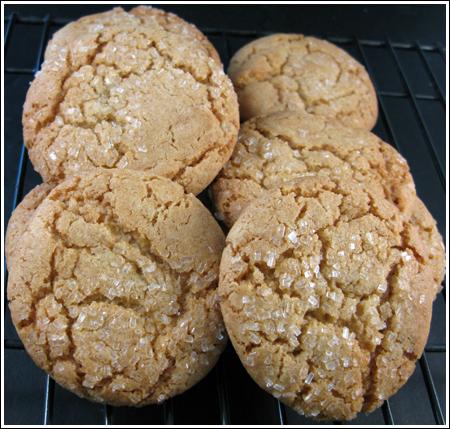 Honey Cookies
1 1/3 cups vegetable oil
2 cups sugar (don't use less)
2 eggs
1/2 cup honey
4 tsp baking soda
1 tsp salt
2 tsp vanilla extract
4 cups flour (Janet uses half AP and half white whole wheat) — Measure by spooning and sweeping
Sparkly sugar or Turbinado sugar for rolling
Preheat oven to 375 degrees F.
In a mixing bowl, stir together oil, sugar, eggs, honey, baking soda, salt and vanilla. Mix well, then stir in the flour, stirring just until it is mixed in.
Shape the cookies into balls about ¾ to 1 inch in diameter and roll them in sparkly sugar (or Turbinado). Place 2 ½ inches apart on ungreased or parchment lined cookie sheets and bake for 10-12 minutes. They should be nicely browned around the edges, crackly and golden.
Makes 7 dozen.
Related posts: