UPDATE:  This was my post today, but if you are looking for good chocolate cakes, check the comment section.  If you have on to add, feel free to paste it.
I think I'm a pretty competent baker, but when friends ask me to bake them a special cake, I get flustered. What's their favorite? What recipe is fool-proof? What cake can I carry to the event without dropping? And most importantly, what cake will stand up on the merit of taste without needing much decoration.
One of these days I'm going to go through my collection and pick out a few go-to cakes.  Off the top of my head are these:
The Guinness Stout cake is amazingly moist and even better on the second day.  It's probably my favorite of all chocolate cakes at the moment.
Pumpkin Carrot Cake is always good – but alienates people who don't like carrot cake and is sort of holidayish.
Red Velvet Cake is fun, but I make it too often.  Plus, it's messy and I get red food coloring all over the place.
Midori Cake is always a hit, but I'm trying to get away from tacky cakes, no matter how much my friends love them.  This sort of applies to red velvet too.
And all the rest of my bundt cakes are just not celebratory enough. I want layers or a big sheet.
So here I am again, searching for the perfect cake to take to a weekend party. I've decided to make one chocolate cake and one make-ahead non-chocolate sheet cake such as tres leches or that old Southern coconut cake where you pour sour cream and coconut over a basic sheet cake and let it sit for a couple of days.
But back to the chocolate cake. I was wavering between stout cake and a new (to me) chocolate cake called Cocoa-Buttermilk Birthday Cake by Dorie Greenspan. Today I whipped up a test batch and now I REALLY can't decide which cake.
It's definitely good and the malt in the frosting, while a little bit gritty, adds a great flavor. Here's a picture of the one-layer test cake. So many cakes, so little time.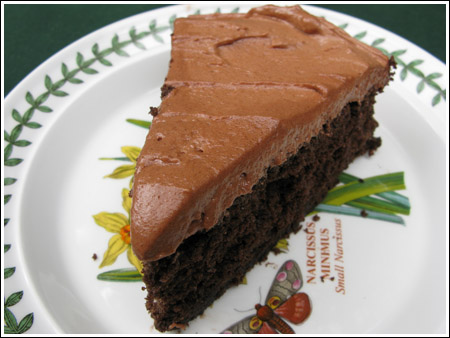 Related posts: