Today's cookie is quite different from the soft and gooey chocolate chip cookies we've been talking about lately. It's hard and crunchy and the texture stands up to the big chunks of chopped natural almonds which I "toast" in the microwave. You can toast them any way you like or, if you can find them, use the pre-roasted, unsalted. However, the microwave is a great tool for toasting small amounts of nuts.
I've been using Corn Flakes for crunch, but I think Wheaties might work well too. The coconut is optional, but if you use it, I recommend unsweetened because the cookies don't need any more sweetness. I've tried both types of coconut.
And finally, I've been using different types of flavored chocolate. The cookies in this picture have a chopped up Endangered Species Dark Chocolate Orange Bar, but you can use any flavor chocolate or just chips. The end result should be a crispy-edged, extra crunchy cookie which holds up well. Maybe it's the lack of egg. Oh, and I apologize in advance for the weird egg measurement. That's about half an egg, so you can save the other half for something else.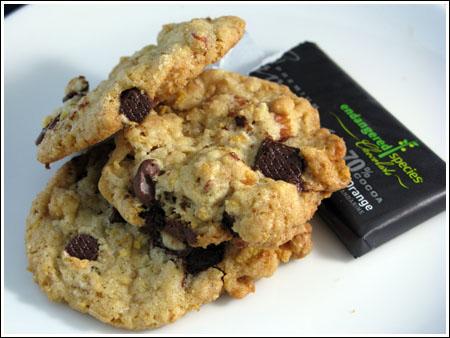 Crispy Crunchy Almond Chocolate Chunk Cookies
1/2 cup whole almonds, unsalted
8 tablespoons unsalted butter, softened
1/2 cup firmly packed brown sugar
1/2 cup granulated sugar
1/2 teaspoon vanilla extract
1/4 teaspoon almond extract
1 1/2 tablespoons lightly beaten egg (doesn't have to be precise)
1 cup all purpose, fluffed up and very lightly spooned and swept (4 1/4 oz)
2 tablespoons cornstarch
1/4 teaspoon baking powder
3/4 teaspoon baking soda
1/4 generous teaspoon salt
1 cups Corn Flakes cereal
6 oz dark chocolate, cut into chunks or 1 cup bittersweet chips
2/3 cup loosely packed shredded sweetened coconut (optional)
Preheat oven to 350 degrees F.
Place almonds on a paper towel and microwave on high for 2 minutes, stopping halfway through the shuffle them around. Allow them to cool. Alternatively, you may toast them in the oven.**
In a mixing bowl, using high speed of electric mixer, cream butter, both sugars, both extracts and the
1 ½ tablespoons egg.
In a separate bowl, thoroughly stir together flour, cornstarch, baking powder, baking soda and salt. Stir flour mixture into sugar mixture.
Transfer cooled almonds and coconut (if using) to a food processor and pulse until almonds are finely chopped. Add Corn Flakes and pulse 5 more times to crush cereal – don't pulverize it, just break the flakes a bit.
Dump almond/cereal mixture into cookie batter and stir until batter comes together. It should be pretty dry.
Shape dough into balls of about 1 1/4 inch and place on cookie sheets about 2 ½ inches apart. Bake one sheet at a time on center rack for 13-15 minutes. Let cool for about 3 minutes on cookie sheet, then transfer to wire rack to cool.
Makes about 18 cookies.
** To toast almonds in oven, lay flat on a cookie sheet and bake at 350 for 8 minutes or until almonds start to crack.
Related posts: