I'd been meaning to make a strawberry cake for the past two years — ever since I saw a really good looking one at a gas station/bakery in La Grange, TX. It was baked in a giant sheet pan and was very tall, soft and pink. At first I thought maybe it was a box-based strawberry cake, but that particular gas station bakery is known for scratch and their using a box just didn't seem plausible.
Since then I've had strawberry cake in the back of my mind, but the recipes I found were either too artificial-y or too scratch-y. And by scratch-y, I mean they just didn't have the borderline garish pink hue I needed. The one little girls are drawn to even if they know deep down they'd rather eat something chocolate. I'd almost given up until I found this recipe, which ended up being a moist, flavorful and delicious cake. Todd liked eating it, I liked looking at it, and Fuzz wanted to like it but didn't….which is the way kids are with strawberry cakes, I supposed.
ONE SUGGESTION:  Domino calls for regular butter and the recipe doesn't call for salt.  There's enough salt in the butter to give the cake the kick it needs.  If you use unsalted butter, it's a good idea to add 1/2 teaspoon of salt to the recipe.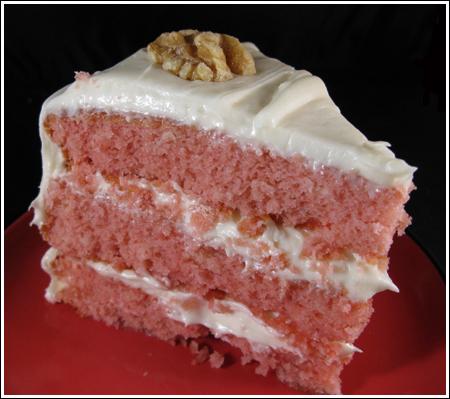 Related posts: