Update: Before you make these, read this updated version of the Levain copycat of the recipe which uses bread flour, European style butter and walnuts.
This morning I decided to do another little experiment with the Levain copycat recipe. Since it was an experiment, I made a very small batch, which yielded only 3 cookies. If you like the cookies, you can scale it back up!
For the experiment, I used European style butter and White Lily flour. The result was a cookie that looked more like Levain's….or at least what I've seen on pictures and TV.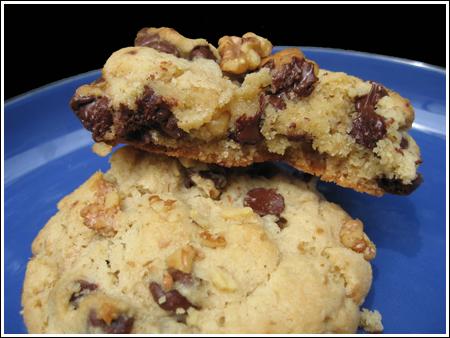 White Lily flour is similar to cake flour, so if you only have cake flour, you can use that (too cakey — stick with White Lily or AP or Bread). Measuring with cups isn't very accurate, and I recommend using a scale. If you don't have a scale, fluff the flour up and spoon and level it into the cups. The dough should not be too sticky to shape, but it shouldn't be dry and crumbly either.
The leavening amounts are very small, but if you don't have a teaspoon that measures 1/8, just eyeball half of a 1/4 teaspoon, which is what I did. You'll definitely have to eyeball the 1/16 teaspoon because I don't think there is such a thing.
And finally, I left the walnuts whole. I think there might be something to that in that the jaggedy big walnuts make air pockets that puff up. But if you hate nuts, you can still try without them.
SUPER Small Batch Levain Copy Cats with Experiment
4 tablespoons unsalted European style butter, cubed, cold but not too hard
3 tablespoons granulated sugar
3 tablespoons packed brown sugar
2 tablespoons lightly beaten egg
1/4 teaspoon vanilla
3/4 cup plus 2 tablespoons White Lily or Cake flour (or weigh out 108 grams)**
¼ teaspoon salt (scant)
1/8 teaspoon plus 1/16 teaspoon baking powder (eyeball)
1/8 teaspoon baking soda
small handful chocolate chips (semi-sweet)
Small handful whole toasted walnuts
In a mixing bowl, using an electric mixer, beat butter and both sugars just until they come together. Don't overbeat. Add the egg and vanilla and beat just until mixed. Don't keep beating until smooth – you want it to be roughly creamed.
Stir together flour, salt, baking powder and baking soda. When thoroughly mixed, add to creamed mixture and stir. The dough should seem kind of dry at this point.
Before the flour is fully mixed in, add the walnuts and chocolate chips and continue mixing (may need to use hands) allowing some of the walnuts to break.
Divide dough into 3 big balls. Stack them in the bowl and chill the dough for an hour or so.
When ready to bake, bake on a parchment lined cookie sheet in a 350 degree oven for 21 minutes. Let sit on cookie sheet for about 10 minutes to cool, them remove.
Makes 3
**If you have to stick with all purpose, only use ¾ cup or weigh out 105 grams
Related posts: