My car is in the shop, so today's recipe for Tropical Banana Bread is made with things found around the house — notably, two almost-rotten bananas. The original recipe from the Texas Hill Country Reporter Cookbook is double this and calls for 6 bananas and an 8 oz can of drained pineapple. I halved the recipe, used only 2 bananas and kept the full 8 oz can of pineapple. The bread was excellent — not too rich, but not dry, either. Next time I might add a little cinnamon.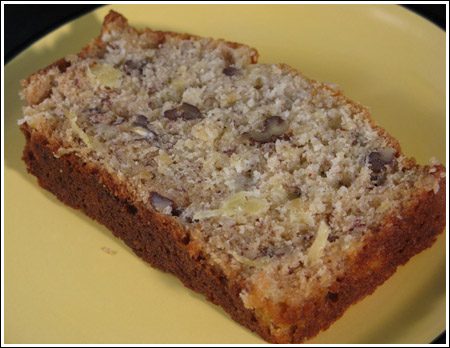 Tropical Banana Bread
2 cups all purpose flour (260 g) — 9 oz (spoon and sweep)
2 teaspoons baking soda (10 ml)
1/2 teaspoon salt (2.5 ml)
8 tablespoons (1 stick) unsalted butter, softened (114 g)
1 cup granulated sugar (199 g)
2 large eggs
1 teaspoon vanilla extract (5 ml)
2 large bananas, mashed (230 g) —
8 oz can crushed pineapple, very well drained
1/2 cup toasted pecans pieces
Preheat oven to 325 degrees F. Spray a 9×5 inch metal loaf pan with flour-added cooking spray.
Whisk flour, baking soda and salt together in a bowl. Set aside.
Cream butter and sugar in a mixing bowl, using high speed of an electric mixer; add eggs, one by one, beating 30 seconds after each egg. Beat in vanilla and bananas. Stir in pineapple.
Stir flour mixture into banana mixture in three parts — mixing (not beating) with a spoon. Stir in pecans. Transfer to loaf pan.
Makes 1 loaf
Set loaf pan on a cookie sheet and place on center rack of oven and bake for 60 minutes or until loaf appears done and a wooden skewer inserted in center
Related posts: