I'm a big Penzey's fan and love getting their catalog, but their recipe for No-Bake Peanut Butter Bars just wasn't for me. Luckily, I made a small batch and didn't waste much because unfortunately, I had to throw them out.
If you want to try the recipe anyway, below are the ingredients they used. I used only 2 cups of powdered sugar and found the bars to be too sweet even with that. Maybe they used natural peanut butter? They must have. I used Peter Pan.
I liked the shape of the bars, so maybe next time I'll use this recipe and cut it into bars instead of making balls.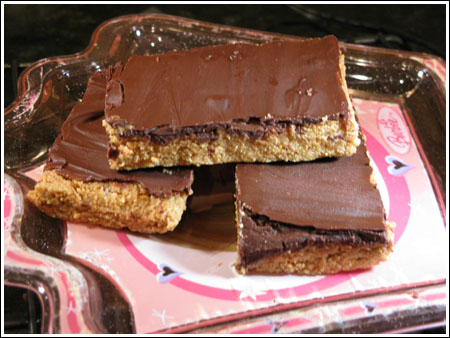 No-Bake Peanut Butter Bars (adapted from a Penzey's Catalog)
18 (1 ½ cups) graham crackers, crushed or processed into crumbs
½ teaspoon cinnamon
8 oz butter, melted
1 ½ cups creamy or crunchy peanut butter
2 teaspoons vanilla
3 ½ cups powdered sugar (which seemed like too much)
12 oz chocolate chips
Mix the crumbs with the cinnamon and add crumb mixture.
In second bowl, mix the butter, peanut butter and vanilla.
Add the crumb mixture and the powdered sugar to the peanut butter mixture and stir well. Press this mixture into a 13×9 inch pan.
Melt the chocolate chips in microwave or bowl set over a pan of barely simmering water. Pour melted chocolate over peanut butter mixture. Chill for one hour before serving.
Note: You might want to score the chocolate just as soon as it set rather than waiting until it has completely hardened
Related posts: