Happy Post-Holiday Weekend!
We hosted a couple of play dates, took walks with Lizzie, and attended a party at some friends' house. It also happened to the 10th anniversary of our marriage, so Todd & I celebrated with a good bottle of wine.
Now things are back to normal. Fuzz headed off to vacation bible school and I'm home cleaning up and baking. Since I had time to focus, I decided to make what appeared to be a brilliant variation on white chocolate brownies — a raspberry studded meringue topped white chocolate brownie from Dorie Greenspan's book, Baking From My Home to Yours.
If you don't have the book, here's a link to the recipe. But hey. Buy the book!
The brownies are quite different and the meringue adds a unique touch. The only problem is, thanks to the meringue topping, it's hard to tell when the brownies are done. Mine took 40 minutes and they still seem kind of soft. Hopefully, they'll firm up.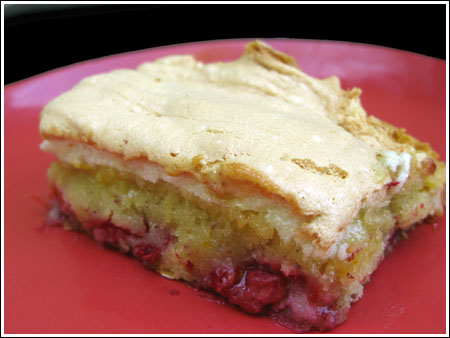 Related posts: