Today's cookie is on the healthy side. It tastes good too, and even won a prize in one of Eating Well Magazine's holiday cookie contests! I've played with the recipe over the years and have streamlined it a bit. These days, I make the cookies in one bowl.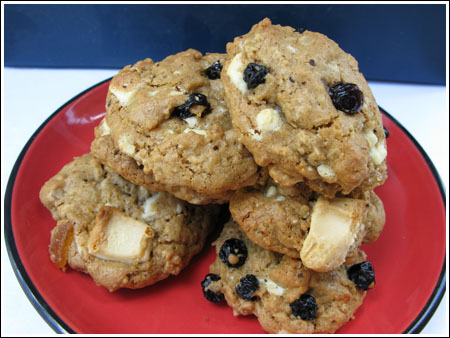 Ginger, Blueberry, White Chocolate Chunk Oatmeal Cookies
MAKES 20 COOKIES
1/3 cup vegetable oil
1 egg
1 teaspoon vanilla
3/4 cup brown sugar, packed (I use dark)
1/2 teaspoon each — baking soda and salt
1/4 cup wheat germ
1/4 teaspoon ground ginger
1 cup all-purpose flour
1/2 cup oats, quick cooking or old fashioned, not instant
2 ounces white chocolate, chopped
1/3 cup dried blueberries
1/4 cup crystallized ginger
Preheat oven to 375 degrees F.
Whisk together oil, egg, vanilla and brown sugar. Stir in salt, baking soda, wheat germ and ground ginger. Add flour and stir until blended. Stir in oats, white chocolate, berries and ginger. Drop by rounded teaspoonfuls onto cookie sheets. Bake for 8-10 minutes. Transfer to a wire rack to cool
Related posts: