Pound Cake # 2 is done and I'm very happy. The cake must be happy too because it has a smile!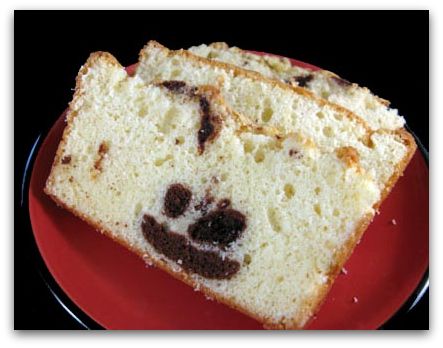 This recipe is based on one Katy gave me called Mary Jo Bowen's Pound Cake, only this version is marbled with a small amount of chocolate. I also baked it in a loaf pan.
The texture is tight-crumbed, soft and tender. It's moist, but not greasy and not particularly dense. In fact, it's kind of light. The cake flour makes a huge difference and I don't know that I'd make another pound cake with anything other than cake flour, or if I had some on hand, soft wheat flour like White Lily.
The only drawback to this cake is it requires lots of bowls and beaters. Lining everything up ahead of time and having ingredients and appliances ready to go will help make baking this cake a lot more fun. It's definitely worth it, just take your time and enjoy the process. In other words, don't try to make it while you're making dinner.
I'm going to take this to the school and get some feedback on Marble Cake #1, which I left there yestserday I hope they didn't find it too dry.
Marbled Pound Cake #2
1 1/2 cups (165g) cake flour
1/8 teaspoon baking soda
1/2 teaspoon sea salt (regular is fine)
4 oz (1 stick) unsalted butter, cool room temp (114 grams)
1 1/2 cups (150g) superfine sugar, divided use**
3 large eggs, separated, room temp**
1/2 teaspoon pure vanilla extract
1/2 teaspoon pure almond extract
1/2 cup (4 oz) sour cream, room temp
2 oz semi-sweet chocolate, melted and cooled
Preheat oven to 325 degrees F. Spray a 9×5 inch loaf pan with flour-added cooking spray (Pam for Baking or Baker's Joy).
Sift together dry ingredients; Set aside.
Beat butter and 1 1/4 cups of the sugar until light and creamy (3-5 minutes). Beat in egg yolks one at a time. Beat in extracts. Add flour mixture and sour cream in alternating portions, beginning and ending with flour.
In a separate bowl, preferably metal, beat the egg whites until soft peaks form. Gradually beat in the remaining 1/4 cup (50 g) of sugar until shiny, soft, billowy peaks form. Do not over-beat. Err on the side of under-beating. Fold egg whites into batter.
Remove about (doesn't have to be precise) 1 cup of the batter and mix with the melted chocolate. Layer half of the white batter in the pan. Dot with the chocolate batter. Cover with white. Bake one center rack of oven for 50-minutes on center rack or until cake tests done (wooden skewer inserted comes out with moist crumbs).
Cool in pan for about 10 minutes, flip out of pan and invert. Cool completely.
To make neat slices, cut with a serrated knife.
**Make your own! Process in food processor
**Have whites ready to go in a large metal bowl for mixing.
Related posts: