Thanks to everyone who helped identify the blueberry recipe I mentioned earlier. It very well could have been the Nova Scotia Blueberry Cake from allrecipes. Even if it wasn't, it doesn't matter. I've found a new great recipe! Or at least it looks great. I'll cut it up and review it tonight.
For now, here's a cookie recipe from the back of the Guittard Semi-Sweet chocolate Bag. The original recipe makes 16 cookies, but I typed it up as a half batch. In reality, I made a quarter batch and made 4 big cookies. That worked out beautifully, so if you only need 4 cookies, just cut the recipe below in half. These were very good. I'd be curious to see how some sort of flavored (chili, wasabi, hazelnut) chocolate works in the recipe as well. But as is, the cookies are delicious. Be careful not to overcook them or you may not get the fudgy middle.
Sorry the picture is kind of bad. I tried to take it outside in the sunshine and it was a little too bright.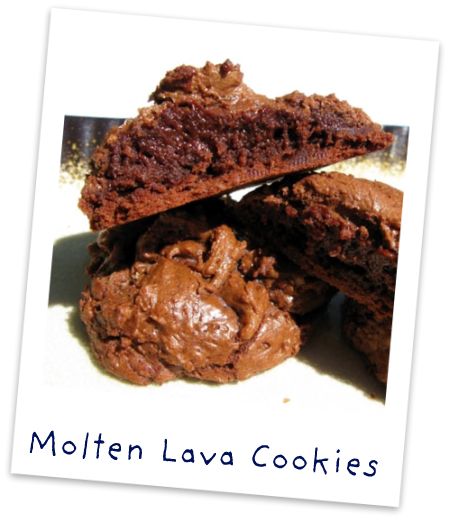 Molten Chocolate Lava Cookies
1 cup semi-sweet chocolate chips
1 1/2 tablespoons butter (unsalted)
1 large egg
1/4 cup granulated sugar
1/4 teaspoon salt
1/2 teaspoon vanilla
1/2 cup all purpose flour
1/4 teaspoon baking powder
Melt the chips and butter in a double boiler or heat proof bowl set over a saucepan of boiling water. You may also melt in microwave. Set aside.
Beat egg and sugar with an electric mixer. When light and fluffy, beat in a salt and vanilla. Gradually beat in the slightly cooled chocolate.
Stir the flour and baking powder together, then add to the egg mixture and stir until mixed. Batter won't be stiff enough to use at this point.
Chill batter for about 30 minutes.
Preheat oven to 375 degrees F and line a cookie sheet with parchment.
Spoon batter by rounded tablespoonfuls (approx) and make 8 equally sized rounds. Bake for 12 minutes. Cool on cookie sheet for about 3 minutes, then transfer to rack to cool.
Best served warm. To reheat, microwave on high power 10 seconds per cookie.
Makes 8
Related posts: