Happy Birthday Karen! This Hyde Park Fudge Cake is for You.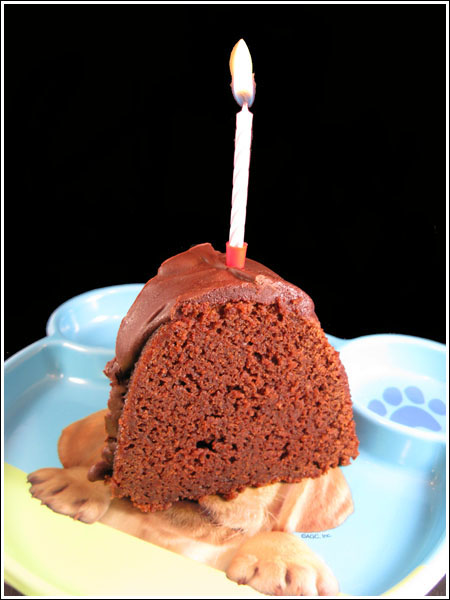 Hyde Park Fudge Cake is based on a recipe from a local bakery called Texas French Bread. They named the cake after their neighborhood, Hyde Park, which is located near the U.T. Campus. It's a nice area, but I don't get over there much and am happy Texas French Bread was nice enough to share the recipe. According to the Statesman, it is one of Austin's top 10 dishes.
This cake is very simple. Given the funky 1/3 measurements, I supposed Texas French Bread makes these cakes three at a time. The original measurement for the egg is "2 2/3 egg" so maybe the high yield recipe called for 8 eggs. Or maybe they just measure eggs by weight and were converting.
The icing came together beautifully and had the perfect texture and sheen. Since I don't have a double boiler, I used a metal bowl set over a saucepan of simmering water.
Happy Birthday, Karen! I'm sending this cake to work so I guess Todd's co-workers are celebrating your birthday this morning.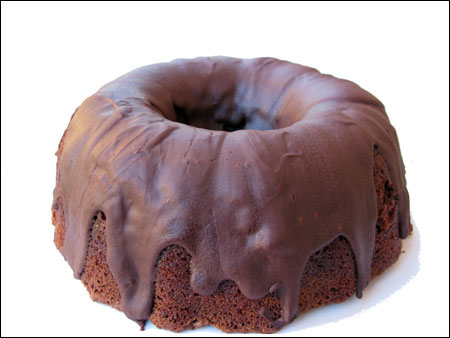 Hyde Park Fudge Cake
5 1/3 ounces bittersweet chocolate
2/3 cup shortening (see my note about substituting butter)
2 large eggs plus about 3 tablespoons of a lightly beaten egg
1 1/3 cups water (or use a mixture of coffee & water or all coffee)
3/4 cup buttermilk
1 1/3 teaspoons vanilla
3 cups all purpose flour (13.5 oz), weigh or measure by aerating flour and not packing it at all
2 3/4 cups granulated sugar
1 1/3 teaspoons baking soda
1 1/3 teaspoons salt
Icing:
3/4 cup granulated sugar
6 tablespoons evaporated milk
3 ounces unsweetened chocolate
1 1/2 teaspoon butter
Preheat oven to 350 degrees F. If using a black Bundt pan, preheat to 325 degrees F. Grease and flour a Bundt pan or spray with flour-added Pam (I used the Pam). TFB recommends greasing and dusting with bread crumbs, but I didn't want to do that.
Melt the chocolate with the shortening – You can do this in a microwave or a double boiler. Let it cool slightly.
Whisk together eggs, water, buttermilk and vanilla in a mixing bowl.
Mix flour, sugar, soda, and salt thoroughly. (If you don't, the flour will clump in the batter.) Gradually add flour mixture to liquid ingredients, blending on low speed of mixer until just mixed or hand mixing, scraping bowl well. Pour into pan and bake until done, 50-65 minutes. Cool in the pan for about 30 minutes. Turn out on a cake rack and glaze with icing.
Icing: While cake is cooling, heat the sugar in the evaporated milk in the top of a double boiler until the sugar is dissolved. (The mixture will not feel grainy when rubbed between the fingers.) Melt butter and chocolate together. Combine with chocolate mixture. You may add one to two tsp hot water to the icing to enhance the sheen. Pour icing over the cake.
Note:  This recipe calls for 2/3 of shortening.  Because butter has more water in it, if you are substituting butter you need to use slightly more to get the same amount of fat.  1 cup of shortening is equal to 1 cup plus 2 tablespoons of butter, so for 2/3 cup of shortening you'd need to substitute 2/3 cup of butter plus and extra 4 teaspoons of unsalted butter.
Related posts: