About a month ago, Pillsbury's PR agency sent me a free coupon for a box of Savorings, tiny pastry snacks to be enjoyed with a glass of wine; Or, if you are following their TV ads, an alternative to Happy Hour at a bar.  I have to admit, I don't quite relate the the couple in the ad who are younger and better dressed and live in such a quiet house, but I like the idea of savoring a quiet moment with a glass of wine and a tiny pastry. I also like how Savorings suggests pairings for each of their flavors.
Spinach & Cheese – Riesling
Mozzarella-Pepperoni – Pinot Noir
Buffalo Chicken Style — Rose
Okay, I didn't follow them, but I liked reading the pairings.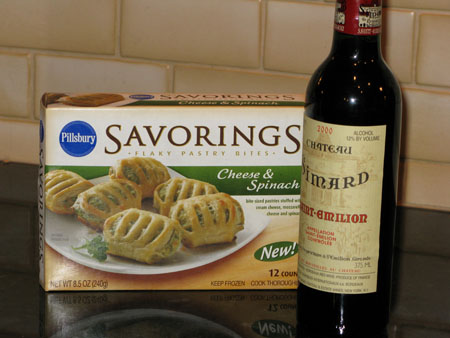 But the big question, do Savorings taste good? Yes! They are delicious. Many of you are scratch enthusiasts, but the Savorings are a great little last minute appetizer and worth a try.  I thought the dough was pretty good and am certain my friends would like it.
If you'd like to try Savorings for free, here's your BIG CHANCE. I'm holding a contest…..a game of skill, luck and creativity. It starts ASAP and ends tonight at 6:00 CST.
Your prize package includes a coupon for a free box of Savorings and a little wine goodie bag with wine charms, a wine stopper, a wine pairing booklet, and a wine opener.
To win, make up names and careers for the couple in the Pillsbury's TV ad. (Click on Featured Product TV Spot) and post in the Comment section below.
For instance, here is my entry:
Her name is Samantha and she is in pharmaceutical sales. His name is Dan. I want to say he's a lawyer but am not really sure. Can you think of better names and career choices for these people? Extra points if you provide background info on their relationship status. For instance, notice how Dan leans backwards in his chair and kind of sighs when Samantha puts the Savorings on the table? It's an odd sigh. Dan has a secret, but I'm not sure what is is. Who are these people and what's up with them? 
The winner will be chosen by a random friend of mine — maybe  someone I know on Facebook.  That way, there's no bias.  Feel free to enter as "Anonymous" but if you win, you'll have to provide a mailing address so I can send you the prize.
Go.
Related posts: