Thanks for sharing your Christmas plans. I wish everyone could win the Barney Butter, but there will only be five names drawn. Still, I'm enjoying all your comments so thanks again. If you commented and your comment wasn't approved right away, it's because I was away from the computer. For instance, there was a big gap in comment approval because I went to Petsmart late this afternoon. After that my dad came over for dinner and I had to be a good hostess and not keep heading to my office to approve comments.
But the reason I'm posting now is to tell you about an awesome cherry pie. My dad said it was the best he'd ever eaten in his life, but he admitted he'd never had one made with fresh cherries so we have to take that into consideration. I realize there are times when you'll have to used canned or frozen, but if you have the time to pit 2 pounds of fresh cherries, your efforts will never go unappreciated.
This recipe is pretty basic, but if you have fresh cherries no one will think so. If you have fresh sour cherries, I'm jealous, but since that's something I'll never find in December in Texas, I went ahead and made it with sweet dark cherries and they were just perfect.
This is based on an Epicurious recipe which is going to be my go-to cherry pie. Also, sorry I keep calling things "go-to" but I like that term.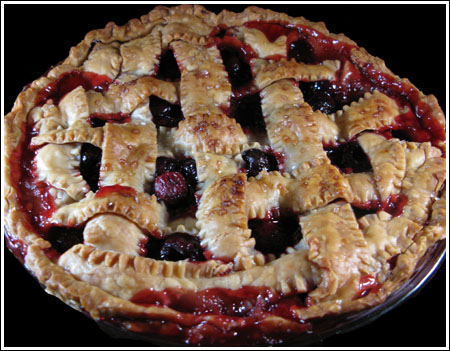 Excellent Cherry Pie
A classic American style cherry pie with a lattice top
Ingredients
Double Crust – Pillsbury Roll Out or Favorite Homemade Recipe
1 scant cup granulated sugar (a little less than 7 oz)
3 tablespoons cornstarch
1/4 teaspoon salt
2 pounds dark sweet cherries, pitted (about 5 cups)
3 tablespoons fresh lemon juice
1/4 teaspoon almond extract
1/2 teaspoon vanilla extract
2 tablespoons unsalted butter, cut into small bits
1 tablespoon milk
Sugar for sprinkling on top
Instructions
Preheat oven to 425 degrees F.
Stir sugar, cornstarch, and salt in a mixing bowl to blend. Stir in cherries.
Stir lemon juice, almond extract and vanilla extract together. Pour over cherry mixture and stir to mix. Transfer to pie shell and dot with the bits of butter.
Roll out half the dough and press into a 9 inch deep dish pie plate (I use glass). Put cherry filling inside. Roll out second half of dough and cut out strips. Arrange a lattice of strips across top of pie.
Brush strips lightly with milk and sprinkle with sugar.
Place pie on rimmed baking sheet and bake 15 minutes at 425 F.
Reduce oven temperature to 375°F. Bake pie until filling is bubbling and crust is golden brown, covering edges with foil collar if browning too quickly, about 1 hour longer.
Transfer pie to rack and cool completely.
Related posts: