Hi All,
I'm heading to the gym now, but will report the winners of the basket contest soon. Judges are still deliberating. For now, here's a new cookie recipe. This one's experimental, but it's one of those super easy small batch versions that is worth a try — especially if you're vegan. Besides, I could use some input.
Notes:
— At first I thought these were too sweet, but once they'd cooled and set, the sweetness level seemed about right. I wouldn't go drastically cutting the sugar, but next time I'd use a scant 1/4 cup sugar and lightly packed 2 T. brown. The unsweetenend applesauce probably added a little natural sweetness too. Again, it wasn't bad – but if you have some flax egg sub around, I think a tablespoon of that might work. Then again, you'll get a flax-y taste.
— Just for fun, I made part of the batch without ANY applesauce or egg sub. The fat cookie on the right was the result. It was fat and sandy and didn't hold together well until it was cool. If you like that kind of cookie, I suppose you could just leave out the egg sub completely and maybe use a more generous spoon of almond butter. I didn't care for that cookie.
— I preferred the thin and crinkly with crispy edges. This is the one with the applesauce/egg sub.
— For the whole wheat pastry flour, I used Whole Foods brand.
— If you're not vegan, you might want to try this with melted butter in place of oil and 1 tablespoon of beaten egg in place of applesauce.  11/2/2012 — Started making it in a bowl.   What's nice about this recipe is it's made in the food processor so you don't have to worry about creaming the butter & sugar. Plus, I like what happens when you coat the flour with fat instead.
How's that for a rambly post? Anyway. I'm outta here for a while.
UPDATE: I've made these cookies several times with great results, but since two people had problems with the dough being too crumbly, I'm going to see if I can recreate the problem and fix it — 11/2/2012
UPDATE 2:  Made them again — no problems.  Dough was pretty soft and definitely held together.  Wondering if the people who had trouble tried to double it or used too much flour — 11/2/2012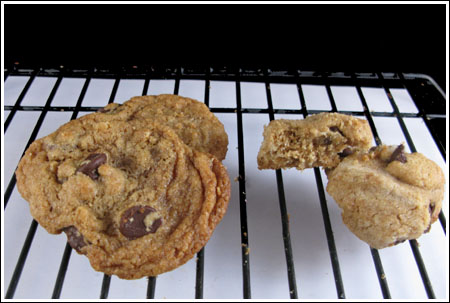 Experimental Vegan Whole Wheat Chocolate Chip Cookies
Some Experimental Vegan Whole Wheat Chocolate Chip Cookies
Ingredients
1/2 cup (2 oz) whole wheat pastry flour (if no scale, lightly spoon and sweep) or 2.25 oz all-purpose, MAKE SURE TO AERATE OR WEIGH
1/4 cup vegetable oil -- use exactly 1/4 cup, no more and no less (for now)
2 tablespoons dark brown sugar, lightly packed
1/4 scant cup granulated sugar
1 tablespoon almond butter, I used Maranatha
1/2 teaspoon vanilla extract
1/4 teaspoon baking soda
1/4 teaspoon salt
1 tablespoon applesauce
Handful (up to you -- I like a lot) of vegan chocolate chips or chopped up vegan dark chocolate
Instructions
Preheat oven to 375 degrees F. Line a cookie sheet with parchment paper or regular foil. Cookies will spread less if you use regular foil.
Stir flour and oil together in a bowl.. Mixture should start out wet and will become a little more firm as the flour absorbs the oil.
Add both of the sugars, almond butter, vanilla, baking soda, salt and applesauce. Stir well. Stir in chocolate chips.
Using a level tablespoon, scoop up dough and arrange 2 1/2 inches apart on baking sheet.
Bake 8-12 minutes or until edges or browned and cookies appear set.
Notes
This is a fun recipe to play with because the yield is small and all you have to do is stir ingredients together in a bowl. My dough always comes out kind of soft and oily and the cookies spread a bit. I used to make these with whole wheat pastry flour, but I just tried it with all-purpose (which weighs slightly more) and they were fine. It's important to use the right amount, though. Not sure if the recipe can be doubled and wouldn't try it yet.
Related posts: