The New York Times No Knead Bread recipe worked! So far, I've made one loaf and there's another on the way. Thanks to Jaden for her detailed directions, Karen for inspiring me with her description of the bread and her addition of lemon and rosemary. And mostly, Bittman and Lahey for sharing the recipe.
The bread reminds me of some bread I had years ago from La Brea bakery. It has a good flavor, but the best feature is crisp and crackly crust. This is something I was never able to achieve with other bread recipes and it's what I like most about bread. My loaf spread a little bit more than I'd hoped, but it still tasted excellent and had a light and slightly chewy (but not overly so) crumb.
This really is a great recipe and I think Le Creuset should use it in all their promotional material so people will buy their pots. I used a Le Creuset 7 1/4-Quart Round French Oven
, I'm tempted to buy another smaller pot just so I can make some smaller and possibly rounder loaves.
Of course Lodge makes less expensive cookware. They have a 2 quart lidded bean pot on their site and you can buy a Lodge Logic Pre-Seasoned 5-Quart Dutch Oven with Loop Handles
on Amazon for less than $30.
I'm pretty excited about searching for or maybe creating variations on the recipe. It's opened a whole up a whole new realm of possibilities and what a great way to start the new year. Now I have to go buy some butter worthy of the bread.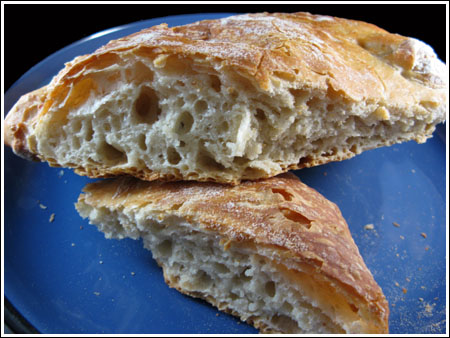 Related posts: