If you're feeling creative, why not see what you can do with a packet of cookie mix?  The Betty Crocker Mix it Up with Betty Cookie Recipe Contest is back!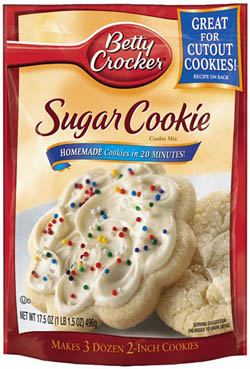 I've retired from this one, but have been encouraging all my friends to enter. What's great about Mix it Up with Betty is that they are very generous with their prizes. Not to sound greedy, but when you direct your mind toward ways to use cookie mix, it's nice knowing you have a fairly decent shot at some cash. There is only one $5,000 grand prize winner, but there are fourteen $500 runners up winners, one $500 "peoples choice" award" and six honorable mentions ($100 gift certificate). On top of that, the winner and runners up winners get 1,000 box tops to donate to their school. For me, this was a big deal. Being able to go the PTA and say "Hey, guess what. I've got 1000 box tops for you" was one of the highlights of that particular school year. The PTA really appreciated it.
So if you have never entered a contest before but would like to give it a try, I strongly recommend this one. If you enter every year and haven't won, I still recommend it! Maybe this is your year. It looks like they've added some categories.

Kid Fun
Make cookies that double as fun family activities
Cookie Treats with a Health Twist
Put a nutritious spin on your favorite treats
Seasonal Favorites
Create treats for the holidays or special occasions
Ethnic-inspired Treats
Prepare cookies or bars representing your heritage
Cookie Favorites Made Easy
Simplify by using seven ingredients or less
Cookie Bars
Whip up bite-sized snacks or indulgent dessert squares

Frosted Cookies
Get creative using both Betty Crocker® cookie mix and Betty Crocker® ready-to-spread frosting
Deadline is February 15.
Related posts: