Swag Bars are based on a cookie served at The Swag Inn, a country inn in Waynesville, NC known for its beautiful hiking trails. It also appears in the current issue of Cooking Light where there's kind of a cute story about how the cookie got discovered. I'll let you buy the magazine for the story, but I just have to share the recipe which luckily, is right here on CL's Recipe Finder.
These rich, no-bake cookie bars remind me of Scotheroos, but with less sugar and (as Cooking Light says) a better nutritional profile. CL reduced some of the sugary ingredients, cut down the chocolate, used a healthy vitamin fortified cereal and increased the peanuts so that the bars have a slightly crunch plus the heart healthy benefits of peanuts.
I know a lot of people will want to cut the sugar even more, so if you do, let me know. It will probably change the great texture, but I still think it could be done. Using Karo's new Karo Lite might work and there's always the option of using reduced fat and/or reduced sugar peanut butter. And for those who don't care so much about calories but don't like corn syrup, I think Golden Syrup would work too.
…..or you could just follow Cooking Light's recipe and enjoy a small bar. I actually like Cooking Light's version better than regular Scotcheroos. The bars have more flavor and are less sugary tasting.
Final note. I used Smart Balance Omega 3 peanut butter which isn't very sweet. If you use something like regular Jif, your bars will be a little sweeter. But the Smart Balance worked well and I think Natural Skippy or the new (just saw it yesterday!) Natural Jif would be good.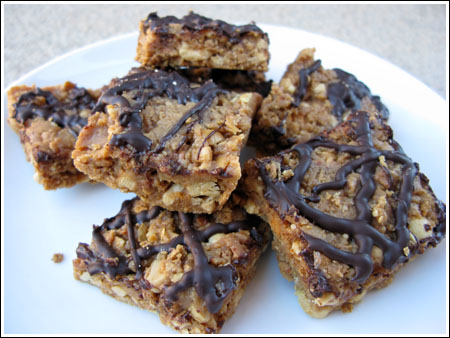 Related posts: