Hey crafty people! Amy Sedaris is the cover girl for the next issue of Craft magazine. It goes out tomorrow, and I thought I'd mention it early so you could camp out by your mailbox or get to the bookstore *right* when it opens. Here's a sneak preview of the cover, and guess what? I'm going to give away a couple of copies.
For a free copy of Craft magazine, please post a hospitality/party tip in the comments section. Deadline is tomorrow at 7:00 AM.  Winners drawn at random.
My tip is "Don't drop your cake on the floor!" It may not sound like a good tip, but if you're prone to dropping cakes it's helpful because you'll be more careful as you move through space with the cake. With this tip in mind, I haven't dropped a cake in 4 years…or at least a birthday cake.
So please post a tip. Valentine's Day party tips are extremely appreciated, but all types party tips are welcome.  Oh, and look for Craft Magazine. 
P.S. If you don't care for crafts, there's a cake recipe there too.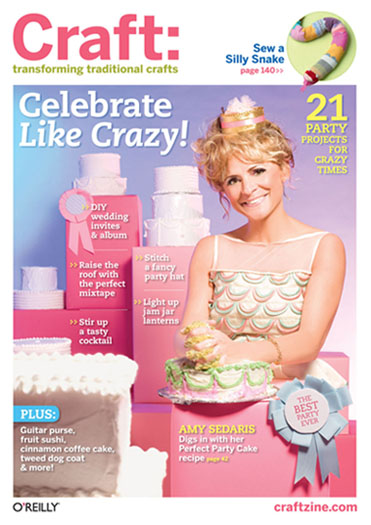 Related posts: