Today I made Alexis Stewart's chocolate chip cookies and they were great! In the past, the recipe didn't work for me. The cookies were so thin I could barely peel them off the sheet. Then I read somewhere that Alexis (who started making these when she was 12) used something like 5 oz of flour per cup which is more than my usual 4.5 oz, so I adjusted the flour. If you don't have a scale and are making the full batch, just add a half cup of flour to the recipe and you should be fine.
Since I didn't need a lot of cookies, I cut the recipe down to a 1/4 of itself and increased the proportions of salt and chocolate chips a bit. The cookies were very thin, but they still set up nicely and were crispy and almost toffee-like in a good way. The proportions are very similar to another favorite cookie recipe, but these turned out even better.
I weighed ingredients as I measured and wrote in the weights below. One thing that probably contributed to the crispiness was that I really packed the brown sugar. Also. I started with cool (65 degree) butter and the cookies had nicely rounded edges.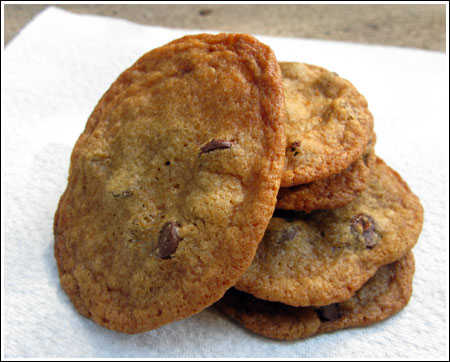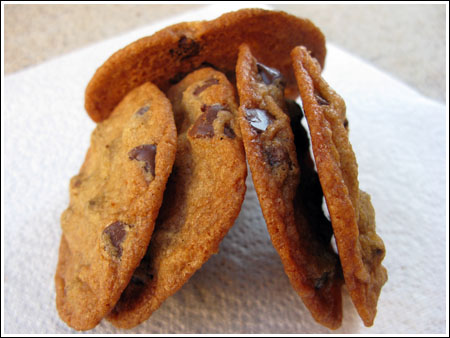 More Thin & Crispy Chocolate Chip Cookies
Perfect thin and crispy chocolate chip cookies. For best results, use the gram amounts.
Ingredients
4 oz *cool* unsalted butter (1 stick) – 114 grams
1/4 cup granulated sugar 48 grams
3/4 cup brown sugar, firmly packed 140 grams
1/4 teaspoon vanilla
1 large egg
1 cup plus 2 tablespoons flour (140 grams)
1/2 teaspoon baking soda
1/2 teaspoon salt
1 cup chocolate chips (use more or less as desired)
Instructions
Don't preheat the oven quite yet because there is a short chill time.
Beat the cool butter until creamy using an electric mixer. Beat in both sugars, and vanilla. When creamy, beat in the egg. When egg is mixed in, beat in salt and baking soda – beat just enough so that the soda and salt are fully mixed in, but don't go crazy beating the batter. Add flour and stir until it is almost blended in. Add the chocolate chips and stir until all flour disappears. Chill the dough for about a half hour (or longer).
Preheat to 350 degrees F.
Drop dough by rounded teaspoonfuls onto the parchment lined cookie sheets. Bake one sheet at a time on center rack for 12 minutes or until edges are golden brown.
Notes
The cookies should get very brown around the edges, but do take care not to burn the bottoms.
Related posts: