For the past few weeks, Fuzz and I have been visiting the orthodontist in preparation for today. She's getting an appliance called a tongue guard — something that's supposed to help fix her "open bite" which she developed from a habit of thrusting her tongue forward. We're not really sure how this tongue thrusting thing started – she never used a pacifier or sucked her thumb, so I guess it's somehow hereditary. At any rate, I'm feeling a little uneasy and didn't want to bake anything that required much thought.
With all that's going on, today's cookies are no-brainers you can make with just a bowl and a spoon. If you have a scale, it will be even easier because you can skip most of the measuring cups, set your bowl on the scale, set the tare to zero and weigh things.
This first cookie is a variation on Judy's but with extra light olive oil. It does add a tiny bit of flavor, but it's rather pleasant. Plus, it makes the cookie seem more wholesome…seem being the key word here. It's still a cookie after all, but satisfying. The cookies don't spread much, so it's a good idea to press the dough mounds down a bit. These are thick, dense and hearty. Don't over-bake and let cool completely before eating. They taste best cooled.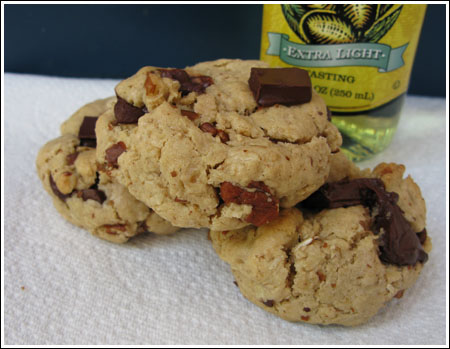 Olive Oil Chocolate Chunk Cookies
2/3 cup (160 grams) packed brown sugar
1/3 cup (80 ml) vegetable oil
1 tsp (5 ml) vanilla
1 large egg
1 teaspoon (5 ml) baking powder
1/4 teaspoon plus an extra pinch (1 ml) salt
1 cup (4.5 oz) (125 gram) white whole wheat flour
1/2 cup (80 grams) oats (old fashioned or quick) – I ground mine up a bit in the processor
2-3 oz (56-85 grams) dark chocolate, cut into chunks
1/3 cup(30 grams) toasted pecan pieces
Preheat oven to 350 degrees F (175 C). Have ready a non-stick or parchment lined cookie sheet.
Mix together the brown sugar, oil, vanilla and egg. When well mixed, add the baking powder and stir well. Watch out for stray lumps! Stir in the salt, then add the flour and stir until absorbed. Stir in the oats, chocolate chips and nuts.
Scoop small tablespoons of dough onto cookie sheets, spacing about 2 inches apart. Alternatively, you can shape the dough into balls and mash them down slightly. These don't spread much. Bake for 10-13 minutes. Cookies are done when edges are slightly browned. The tops don't brown much, but that's okay because they are already dark from the brown sugar. Look for brown edges
Makes about 13 or 14 cookies
Related posts: