Today's cookies were supposed to be Dorie Greenspan's Granola Grabbers, but as usual, I went crazy and made a bunch of changes. I swapped out ground oats for the wheat germ, added chocolate chips, pecans, vanilla and baking soda and got rid of the raisins. There's no confusing these for health food. They are buttery, crunchy and addictive. The original recipe is in Baking: From My Home to Yours
.  I'm really glad I found it because it will be a useful way to get rid of the crushed granola at the bottom of the box.  In fact, I'll look forward to it!
.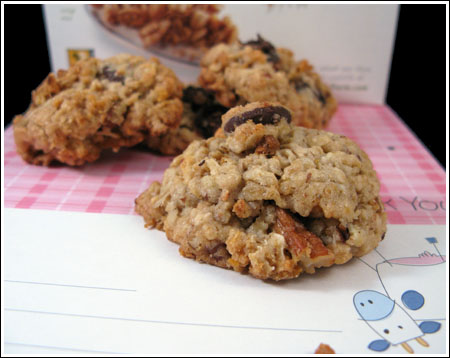 Granola-Coconut-Chocolate Chip Grabbers
Chocolate chip cookies made with granola.
Ingredients
2/3 cup (70 grams) pecans
1/2 cup (45 grams) shredded coconut
1/3 cup (30 grams) ground oats or wheat germ
14 tablespoons (200 grams) unsalted butter, cool room temperature
3/4 cup (150 grams) packed light brown sugar
1/4 cup (48 grams) granulated sugar
1 large egg
1/2 teaspoon vanilla
1/4 scant teaspoon salt
1/4 teaspoon baking soda
1 cup all purpose or white whole wheat flour (4.5 oz)
3 cups granola (240 grams)
2/3 cup (114 grams) chocolate chips (I used bittersweet)
Instructions
Preheat oven to 350 degrees F. Line a cookie sheet with parchment paper.
Lay the pecans, coconut and ground oats on cookie sheet and bake for 10 minutes or until coconut is toasted. Let cool slightly; chop the pecans.
Raise oven heat to 375 degrees F. ( Or you can leave it at 350 -- See note)
Cream butter and both sugars with an electric mixer for about 2 minutes. Beat in the egg and vanilla; beat in the salt and baking soda, then add the flour and stir until it is almost mixed in.
Break up any big clumps of the granola and combine it with the toasted nuts, coconut, ground oats and chocolate chips; add that mixture to the batter and stir until blended. Batter should be really thick.
Scoop up solidly packed and rounded tablespoonfuls of dough and arrange on parchment lined cookie sheets spacing about 3 inches apart.. Bake for 10-12 minutes.
Makes about 28 cookies
Notes
Note: I baked a second batch of these using a different brand of granola and the second batch seemed to cook to fast at 375. So for that batch, I used 350. If your cookies seem to be browning too fast at 375, try 350.
Related posts: