I didn't understand the "essence of Emeril" until I ate at one of his restaurants. The man is a genius in the kitchen and the fact that these blondies are stellar is no surprise. Still, you have to be careful because there are a few things in the original recipe that are questionable and I don't just mean the spelling of the title.
First off, the pan size seems too small. The original recipe is double this and baked in a 9 inch pan. Either the original recipe is supposed to be super-thick or they meant 9×13 inch pan because I baked half the recipe in an 8 inch square pan and the blondies seemed about the normal thickness. And second, the recipe says to "pour" the batter. There's no way you can pour this batter because it's thick like cookie dough. You have to plop it in and pat it.
Aside from those minor details, the results were excellent– or at least I though so. Some might not like that the base is on the dry side even with the recommended amount of accurately weighed and measured flour. To me, the base makes a great backdrop to the rich macadamia nuts and the sweet white chips. When nuts and chips are suspended in batter that's equally gooey and sweet, you don't get much contrast. Here, you do. But be careful, because if you skimp on the nuts and white chips you may get too much dry-ish/floury batter. And be careful not to overbake.
The other thing I like about these is the sweetness level. Al Roker's Platinum blondies had good reviews, but people said they were too sweet. Emeril's have less sugar and work well with the sweet and potentially annoying white chips. But to Al's defense, in real life he may not pack his brown sugar as much so maybe that's why on paper, there's more. When the world gets used to weighing flour, I'm going to start a campaign for weighing brown sugar, because you get a different amount many times based on how much you pack it.
One more thing while I'm rambling. Unbleached flour works well here. If you accidentally use bleached your blondies might be a little chalky. I've been paying a lot of attention lately to bleached vs. unbleached and while I prefer the idea of unbleached flour (like everybody, right? ) I'm finding bleached flour gives superior results in certain cakes. But not here. Blah, blah, blah. Try these!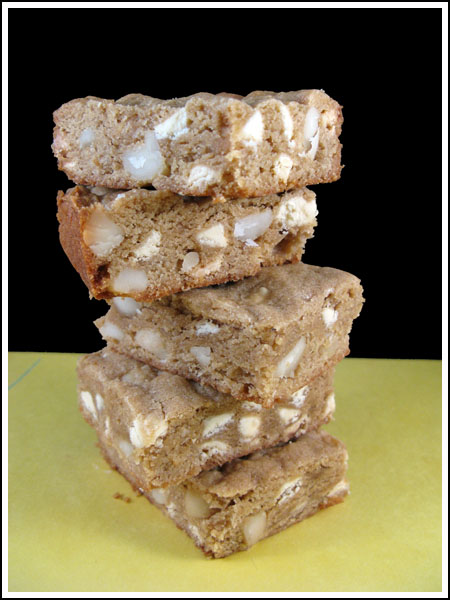 Macadamia White Chip Blondies
4 oz butter, unsalted (114 grams), room temperature
3/4 cup light brown sugar (160 grams)
1 large egg
1/2 tablespoon vanilla extract (8 ml)
1 1/2 cups unbleached all purpose flour (190 grams) – if no scale, fluff, spoon gently, sweep – too much flour will make these dry.
1/2 teaspoon baking powder (2 ml)
1/8 teaspoon salt (pinch)
3/4 cup white chocolate chips (a few more if you want)
1/2 cup lightly toasted or "Chef Ready" macadamia nuts**
Preheat the oven to 350 degrees F. (176 C). Line an 8 inch metal pan with foil and spray bottom only with cooking spray.
Cream the butter and sugar in a mixing bowl using high speed of an electric mixer. Beat in the egg and vanilla.
Stir together flour, baking powder and salt. Add the flour mixture to the batter in 3 parts, mixing after each part. Before the flour is fully mixed, add the chips and nuts and mix until flour is incorporated and chips are well mixed. Batter will be thick. In Emeril's original recipe he says to "pour" it in the pan, but I had to plop mine in and pat it down.
So "transfer" the batter to the pan and place in the preheated oven. Bake for 25 or until blondies appear set. Let them cool completely, then lift from the pan and cut into 12 bars.
** Fisher's Chef Ready nuts are pretty good straight out of the bag.  The "Chef Ready" part is no joke.
Related posts: