These are crowd-pleasing muffins. They don't have big crowns, but they're sweet, have a cake-like texture, and most people seem to like them. Even Fuzz, who doesn't care for blueberry muffins, thinks this recipe is pretty good. This is adapted from a Nick Malgieri recipe which he adapted from Marian Burros.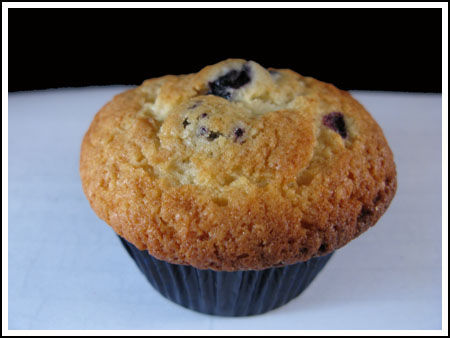 My Favorite Blueberry Muffin Recipe
An easy and good blueberry muffin recipe
Ingredients
2 cups all-purpose flour, bleached works best, but I use unbleached – 270 grams
2 teaspoons baking powder – 10 ml
1/2 teaspoon salt - 2 ml
8 tablespoons unsalted butter, softened 114 grams
1 1/4 cups granulated sugar – 240 grams
2 large eggs
1 teaspoon vanilla extract – 5 ml
1/2 cup plain yogurt – 110 grams
1 cup fresh blueberries
Instructions
Preheat oven to 375 degrees F (190 C). Line 12 muffin cups with paper liners.
Mix the flour, baking powder and salt together and set aside.
Cream the butter and sugar using high speed of an electric mixer. Beat in the eggs, one at a time, beating 30 seconds after each egg. Beat in the vanilla. Scrape sides of bowl and stir in the yogurt.
Gradually add the flour mixture, stirring just until mixed, then stir in the berries.
Bake on center rack for 27-30 minutes or until muffins are golden brown.
Related posts: