Good Morning!
We're back, and thanks to the super pet/house sitting skills of our friend Krista, the animals are fat and happy. I also owe a batch of cookies to the kids across the street who helped play with Lizzie while Krista went to do other babysitting jobs. Unfortunately, I'm out of butter and can't run to the kitchen to bake.
Anyhow, last night I received a few comments telling me about Oatmeal Cookie Guy's Compost Copy Cat. Mainly, comments suggesting I try it.
As a matter of fact, I tried it back in April and reviewed it. Here's a link to the commentary. OCG's (I like calling him OCG…it sounds sort of gangster) cookies were very good, but being that he is "Oatmeal Cookie Guy" he used a higher proportion of oats. At least it seemed like it. The cookie I tried day before yesterday didn't taste quite so oaty, but other than that and the Fritos, I think he got the flavors right. 
I'm concerned that the compost cookie might be difficult to duplicate at home due to differences in commercial ovens and home ovens, but that won't stop me from trying.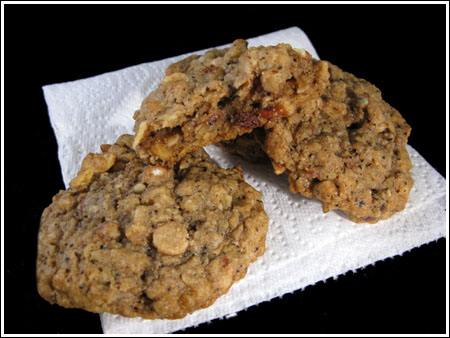 Related posts: