Earlier this week, I spent a few days in Minneapolis touring the Betty Crocker test kitchen with 50 other bloggers. We'd been invited to the General Mills first ever "Eat and Greet" where they were excited to share some new products and introduce us to the people behind the brands.  I was happy for the opportunity to attend and also, to visit Minneapolis which until now I'd perceived as a perpetual blizzard thanks to soundbites from the news.  Arrangements were made, bags were packed, and on Wednesday morning I was on a plane. I'd brought only a carry-on,  as this was to be a quick two night trip.
At baggage claim, I met a few of the other bloggers.  We boarded a bus to the Sheraton where we checked in and registered for the event.  Having been a Bake-Off contestant twice, I was happy to see some familiar faces whom I'd met only briefly during the contests.   Not to get off track, but at Bake-Off, General Mills lets employees from other divisions of the company act as runners or help in various areas as needed and they are usually as wide-eyed as the contestants. It was fun seeing them on their own turf.
After putting away my bags and calling home, I went back to the the lobby where I met up with some food blog friends — Nicole from Baking Bites, Amy from Cooking with Amy, Jennie from Picky Palate and Angie from Bakerella. We boarded the bus once again and headed for the Mill City Museum, a Minneapolis landmark which used to be a working mill but is now a museum chronicling the history of the milling industry. It was the perfect place to hold a reception for bakers and we all took pictures each other and of signs…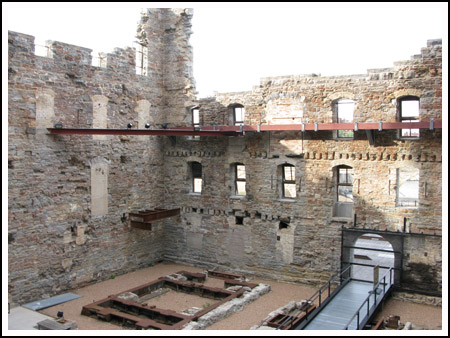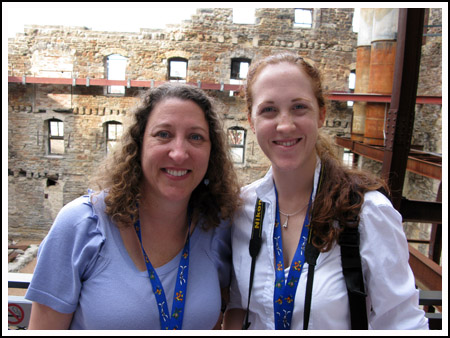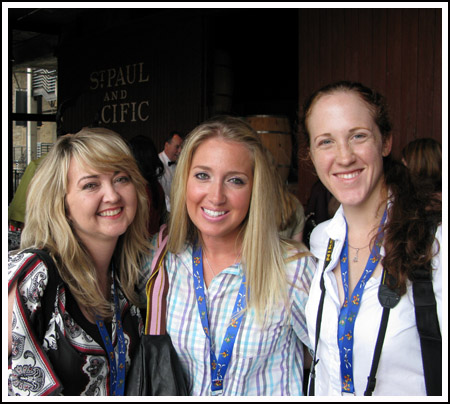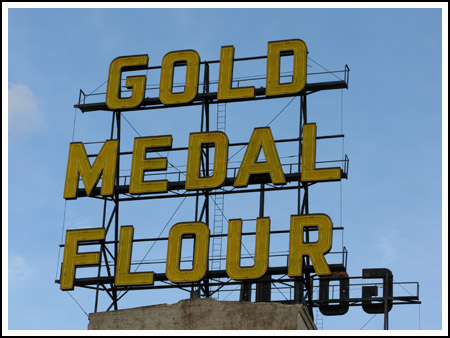 After a tour of the museum which an elevator ride on the Flour Tower, a walk through a room Amy called "The Betty Crocker Hall of Heads" and photo ops with a giant box of Bisquick…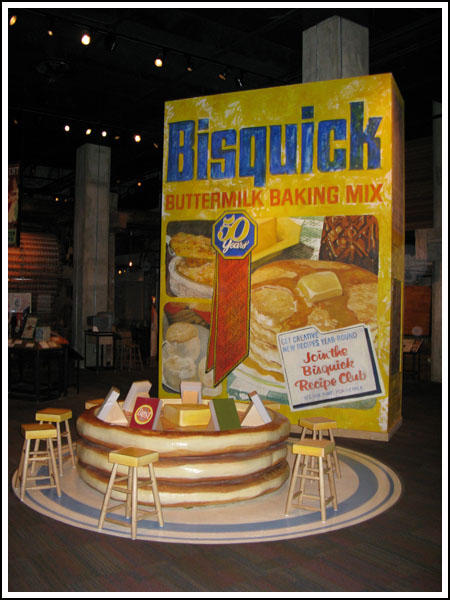 …we sat down to dinner and talked about travel, cruises, baking, and Bordeaux. At one point, we got scolded by the MC who punished us with Bisquick trivia questions. Amy got them all right and won some coupons. Then we went back to the hotel, still kind of keyed up, and sat by the indoor pool. One of the moms jumped in with her iPhone on. That was pretty much the wildest thing that happened all evening.
Early the next morning we rode over to General Mills headquarters, a series of buildings set on a sprawling green lawn with a lake and walking trail. We were greeted at the main entrance by the doughboy, who posed for pictures and endured the usual belly pokes from a group of mom bloggers, before we were led to a conference room where they tagged our luggage with ribbons (we were told to check out of the hotel that day) before leading to large area for a buffet breakfast.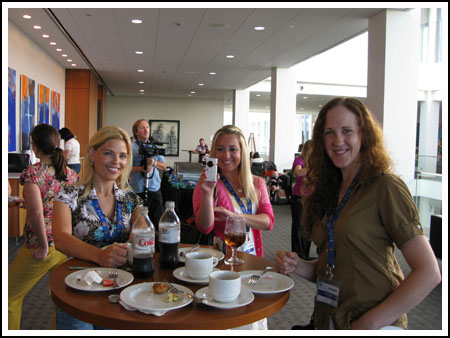 Next up, a short welcome greeting, intro from some long time employees, and finally….the test kitchen! I was expecting a vast, dark, place that smelled like brownies and had people running to and fro working on recipes made from cereal, but it wasn't quite that way. It was a sunny and immaculate working kitchen, but today there was no testing in progress, but rather carnival of samples.  I took a couple of pictures from a landing above the kitchen. Unfortunately, these were taken through glass.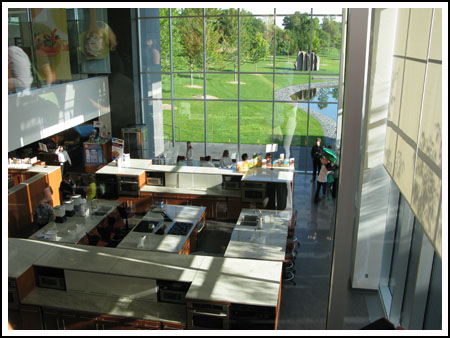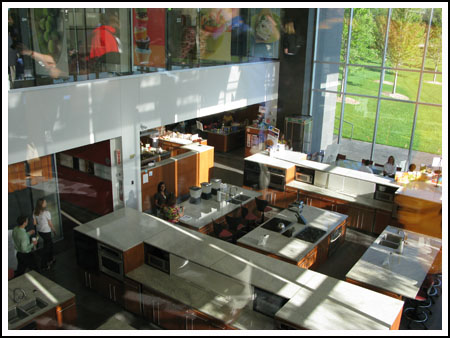 First station on the docket was the Big G cereal. We tried a few cereals and took pictures with the Trix Rabbit and the Lucky Charms guy.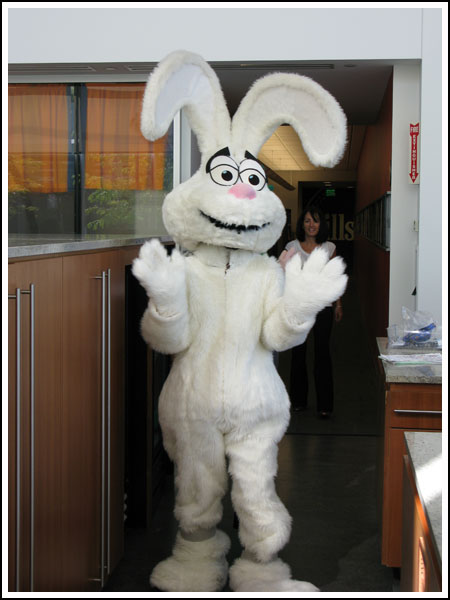 I took a picture of some Total.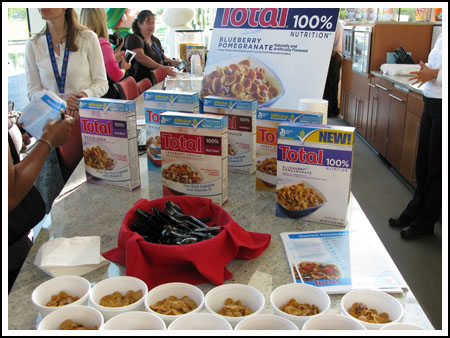 After cereals they showed us this thing called The Vault which was a phone booth type structure filled with box top coupons. Someone would go in the booth, air would be turned on, then the person in the booth tried to grab flying box top coupons. The kitchen seemed kind of an odd place to keep The Vault, so I guess it was mostly for tour groups.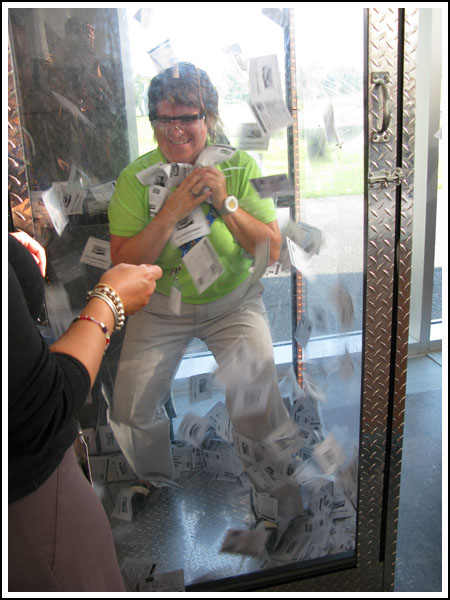 Moving on. Nature Valley Nut Clusters. At this station, like the others, we were greeted with some brand reps who were proud of their product and seemed to really care what we thought. I liked that it had actual nuts and said thanks for the protein. They said other people had told them the same thing, and at that point, I started thinking about all the research that had gone into every product.
Next door were the gluten free Chex. I thought they'd always been gluten free, but apparently there's a new formula. I almost didn't sample any, but there was a sweet Chex hostess who enthusiastically encouraged us to try the new flavors and went on to say how inexpensive Chex were compared to other gluten free cereals. One interesting point mentioned was how appreciateve celiacs were to be able to buy gluten free cereals in a regular grocery store. I happen to like going to specialty stores to find food items, but not everyone does and for people who have to, it can be a drag.
The Muir Glen tomatoes station was next, and Nicole and I grabbed as many recipe cards as we could. They'd made a gorgeous bruschetta, but I had a good cereal taste going on and didn't want to ruin it. We must have been special because they invited us to join the Tomatoes Connoisseurs Club. It's very exclusive.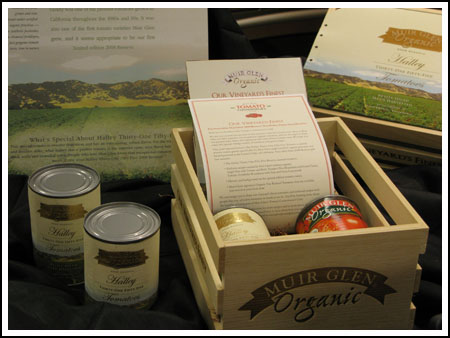 But we had to move on, because the smell of freshly baked cookies was luring us toward the back corner to the Simply Cookies display which shockingly, was my favorite. We met a very sharp brand rep who was ready and willing to answer all our questions while an assistant prepared batch after batch in the background.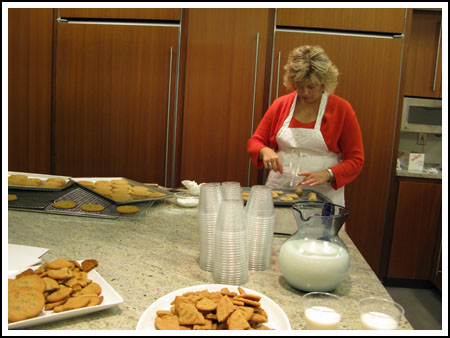 First off, a key point. The cookie don't have trans-fats or high fructose corn syrup and they're made with easily recognizable ingredients. But what cracked me up (a little) was when the rep said they were aimed at a market segment called "Simplicity Mom". I probably shouldn't have laughed out loud, but I had this image of a woman with a subscription to Real Simple, who read Simply Recipes and went around telling people she liked to "keep things simple". And boy, do I know a few moms like that. I aspire to be a simplicity mom, but I think I fall into the other segment of people who uses cookie dough as an "ingredient". I can't remember what's it's called….Complicated Mom?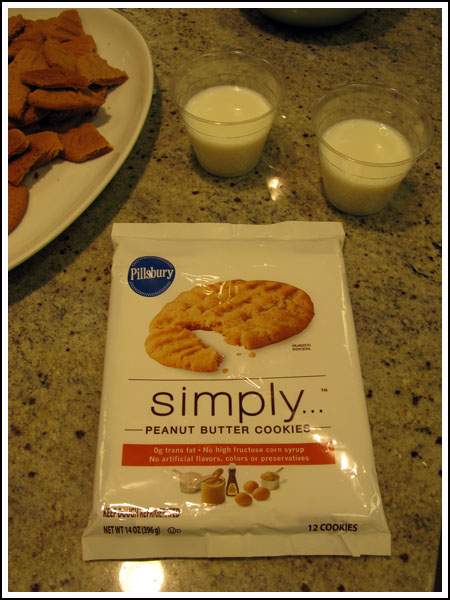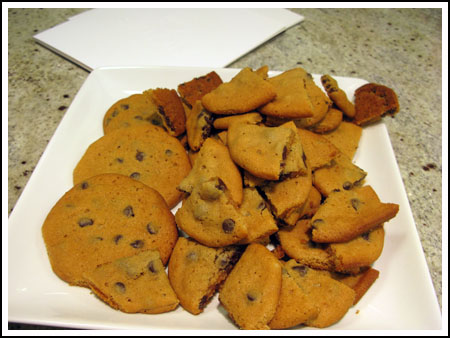 Now about the actual cookies, they were excellent and didn't have much of the usual refrigerated cookie dough flavor. Also, they didn't have that obnoxious palm fruit oil favor which I learned only certain people can detect. We had quite a lively discussion of how much research, tasting, testing, and debating goes into developing new cookies and I couldn't help but feel slightly envious of the people on the Simply Cookies team who didn't seem tired of talking about cookies at all.
The Yoplait Smoothies section was next, and if you ask me, they've got a great idea – a bag of frozen fruit chunks with little yogurt chunks. You throw it all in the blender, give it a buzz and you have a delicious smoothie in seconds. My big question for the smoothie people was why the sucralose? Why couldn't the product be made completely with sugar or some sort of natural sugar? I felt kind of shy about asking the question and I think I may have asked it under my breath so that nobody heard. Really, the smoothies were good and the smoothie people were nice. But we were encouraged to be honest and I wondered why they had to add sucralose to other ingredients that were inherently healthy.
I got a little bolder at the next station, Yoplait Delights. This yogurt product looked like a pudding parfait, came in dessert flavors (lemon torte) and was only 100 calories per serving. Again, the product had a mixture of sugar and sucralose. This time I got a little bolder and asked why they had to use a combo of sugar and sucralose. The answe was that the sucralose cut about 100 calories off the product. Given the demand for good tasting products in 100 calorie portions, I can see why they chose to go this direction. And some tasters in the group, people who said they never liked yogurt, thought the Delights were tasty.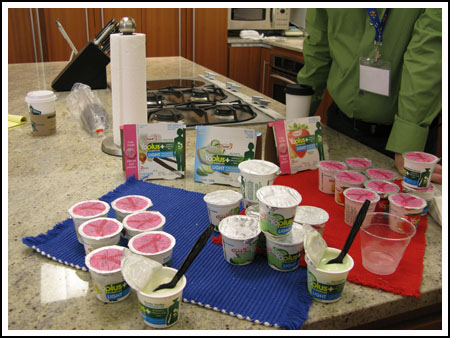 Final stop, Yoplait Plus Yogurt. I've been eating Yoplait since I was 11, but can't say I wasn't a little skeptical about the "digestive health" claims made by Yoplait Plus. Not that I'd thought about it much because I was happy with normal Yoplait, but I recently started a low dose antibiotic for my eye and have a vested interest in probiotics. Sure, I could buy a jar of acidophilus, but it would be more pleasant to get the probiotics in a product I enjoyed eating. So I asked about the probiotics and the registered dietician on hand told me Yoplait Plus had a variety of live and active cultures – the ones you find in most yogurt plus a different pro-biotic culture that together, provided billions of live cultures. "Billions" sounds impressive, doesn't it? It was about this time I told Nicole "Hey, better living through chemistry, right?" She laughed and I could tell she'd never heard that expression. In hindsight, I should have said I made it up.
Around this time, Amy reappeared and told us she'd been going through refrigerators. I wasn't sure if that was part of the tour, but we followed her over anyway and found these adorable snowmen. We guessed they were made of icing and that they melted it, shaped it into snowmen, then refrigerated it to re-solidify.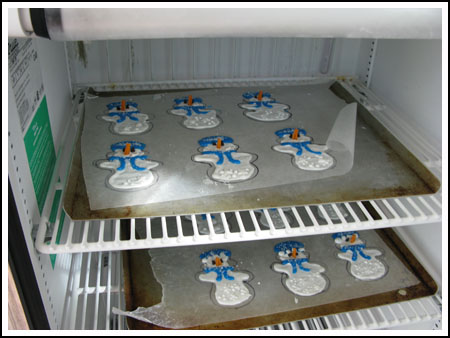 And that was that for the test kitchen. We waited for everyone to finish the product parade, then headed to the photography studio.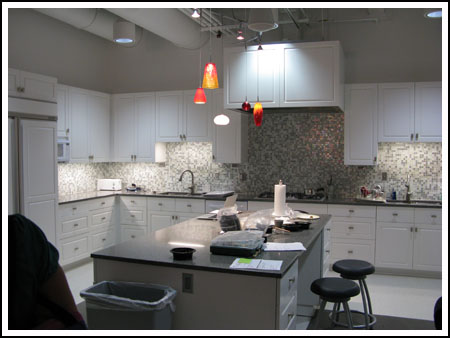 First, we got to walk through the old studio which the studio director apologized for saying their new one was sooooo much better. Somewhere along the way, we stopped to walk through prop closets.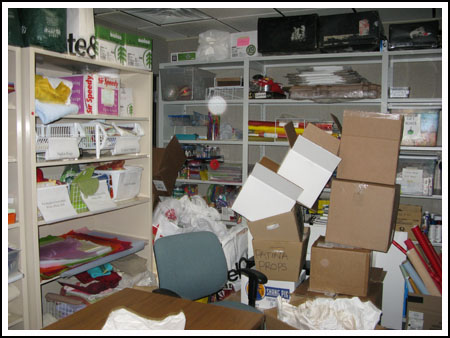 And then we were in the new natural light studio. It was a surprisingly homey and non-intimidating studio with lots of natural light, a litte table next to a window and professional photography equipment. Add to that, another not-so-shabby kitchen where they baked the food they were going to shoot.
Aside from using a little Windex on the plates and carefully arranging food so that portions looked satisfying, the didn't do a lot of doctoring. Instead, the made the food over and over until they got the look just right. For instance, they'd bake batches upon batches of brownies just to get the right pattern in the top and nice looking cross-section of nuts. We were also given a demo on how to cut brownies.
I'd say every blogger in the room had a deep interest in photography and this might have been the highlight of the tour for many. The best part was, they gave us a spiral book they'd made with tips on shooting food with our own, non-pro cameras. Everyone agreed the photo book was priceless. Even Todd, who found it lying on the bed after I'd come home, was extremely impressed with the photography lesson.
Next came lunch, where at one point we were treated to a quick visit from one of General Mills long time employees who told us how long she'd worked at the company, how happy she was at her job, but that she was first and foremost a mom and that like a lot of the attendees, she spent time in cyberspace looking for ways to be a better. That struck a chord with a lot of people, to be sure.
Then we went back to eating. We sat on the patio and enjoyed lunch with a few employees who also happened to love food and travel.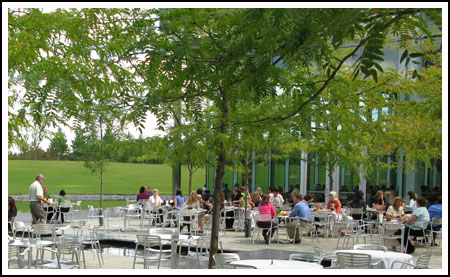 We talked about the Minnepolis state fair and tried these humble looking yet delicious lemon squares that had a butter crust, a cake-like layer and a lemon filling that seemed to have cream cheese in it. Nicole and I were both trying to take a picture at the same time and I hope she got a better one than this. If this lemon square looks familiar, let me know because I've been obsessed with it for two days.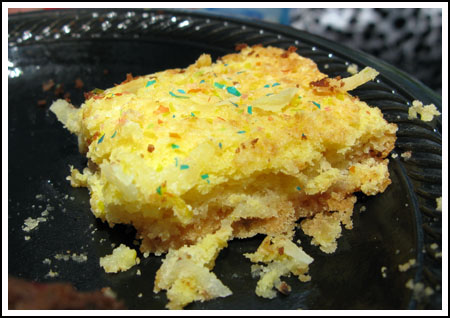 So that was it for the General Mills part of the trip, which for most people was a one night stay. I figured rather than fly home and arrive in Austin at midnight, I'd sleep over another night, go to the Mall of America and do some exloring. Since the Mall of America is near the airport, I bought a room at the Minneapolis Airport Hilton which has a shuttle to the mall and to the airport. I spent the later part of the afternoon walking around taking pictures of roller coasters and buying little souveniers for the family. I'll post some roller coaster pictures later.
Related posts: