The lemon meringue pie experiments are coming along well, and I've learned a few things since I brought up the subject. There are details most recipes don't mention and that I wouldn't have known had it not been for a reader named Cheryl and this article with tips from a pie making expert at Johnson and Wales.
Skipping everything about the crust — because that's a whole different subject, Some of the key things I've picked up are as follows:
— Add the lemon juice last because the acid keeps the filling from thickening properly and adding acid too early helps "cook" the egg yolks which should not be over-cooked.
— Over-cooked eggs are what caused the first pie filling I made to separate. Adding the lemon juice too early didn't help either.
— It's best not to use a double-boiler because the mixture doesn't get enough heat to form a gel (so says the article, though a lot of recipes call for a double boiler). I'm eliminating recipes that call for double boilers since they're kind of a pain anyway. That being said, Cheryl's used a double-boiler for 40 years and her pies are great.
— Always put the meringue on the filling while it's piping hot. The hot filling helps cook the meringue from the bottom up and helps keep it from weeping.
And something I discovered on my own – you can make the meringue ahead of time, so long as you have all your filling ingredients ready to go. It's much less stressful to just get the meringue out of the way. I tried a few different meringues, including one that was very low in sugar (Alton Brown's) and another that had a lot of crazy steps – making a gel, grinding up sugar and cornstarch in a coffee maker before adding. That meringue wasn't any better than the others, though it didn't develop those little yellow crystals that start appearing on Day 2. The best meringue was the one used on the Betty Crocker Pie — 3 eggs, 1/4 tsp. cream of tartar, 6 tablespoons sugar and a little vanilla. Simple and good.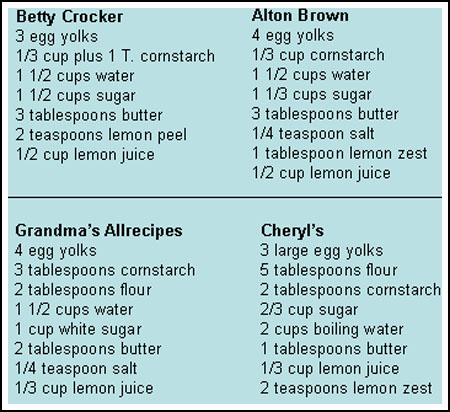 The challenge now is to find the filling I like best. Above is a chart showing yolk/juice/water/thickener amounts. Betty Crocker's is first, with the most sugar and Cheryl's recipe uses the least. I'm making Cheryl's again today just to test it again, but I had great success with the Betty Crocker recipe which was recommended to me by Priscilla Yee. Todd loved it. It did have a lot of sugar, but there was enough lemon and butter to balance it out so it wasn't terribly sweet. I did add 1/4 teaspoon of salt to to the filling, though. Most fillings have a bit of salt and with that much sugar, it seemed like a good idea.
Betty Crocker's Lemon Meringue Pie Recipe Here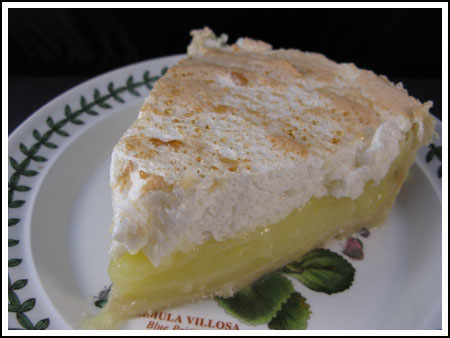 Related posts: