If you've ever received Cuisine at Home magazine's sample issue, this Boston Cream Pie Cake might have caught your eye. Unlike regular Boston Cream Pies, it has an extra chocolate layer in the middle which makes for a dramatic presentation — or at least as dramatic as one could imagine for Boston Cream Pie. Boston Cream Pie is a humble sort of dessert and this one requires more dishes and more work than most. Or maybe it just seemed that way because it was my first time making it and recipes always seem more complicated the first time around.
The recipe requires so much beating that you really need a stand mixer to do the job. But if you measure right, use the correct flour, weigh the ingredients and sift as directed, you'll be rewarded with a very light and airy sponge cake. The chocolate layer is excellent – very soft and very chocolaty. The cocoa is not just for show.
The pastry cream was not great. I made it twice and didn't love the texture, so I used a different recipe in the end. I'm going to give you Cuisine at Home's recipe, because chances are it just wasn't my preference and others might like it. Also, Cuisine at Home's recipe yield's right amount of pastry cream, whereas if you use a different recipe you may have to make two batches.
The glaze was absolutely perfect. It flowed nicely without being runny and was very shiny. I'd use that again on just about any cake.
This was a winner, but I'd still like to try a smaller or more streamlined version.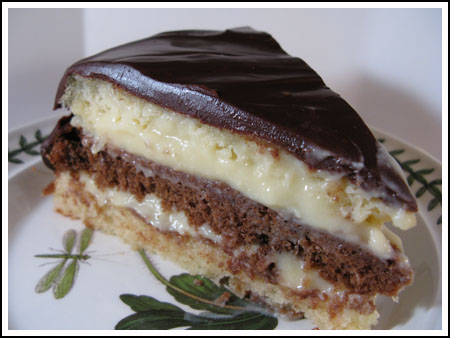 Boston Cream Pie Cake
Filling:
2 cups milk
1 tablespoon sugar
1 teaspoon vanilla extract**
3/4 cup granulated sugar
3 tablespoons corn starch
1/8 teaspoon salt
4 large eggs at room temperature
3 tablespoons of unsalted butter
1 tablespoon light rum, optional
Golden Cake:
1 cup cake flour (4 oz)
1 teaspoon baking powder
1/8 teaspoon salt
4 large eggs at room temperature
3/4 cup granulated sugar
1/3 cup milk
1/4 cup vegetable oil
1 teaspoon vanilla extract
Chocolate Cake:
1/3 cup cake flour
3 tablespoons of unsweetened natural cocoa powder
1/2 teaspoon of baking powder
1/8 teaspoon of baking soda
1/8 teaspoon salt
2 large eggs at room temperature
6 tablespoons of sugar
3 tablespoons of hot brewed coffee
2 tablespoons of vegetable oil
1/2 teaspoon of vanilla extract
Chocolate Glaze:
4 ounces of good quality semisweet chocolate finally chopped
1/3 cup of heavy cream
1 tablespoon of light corn syrup
Make Filling First: Bring milk, 1 tablespoon of sugar and vanilla to a simmer in large heavy saucepan; stir to dissolve sugar. Stir together 3/4 cup of sugar, cornstarch and salt in a small mixing bowl; set aside.
Beat the eggs in a large mixing bowl with an electric or stand mixer on medium speed till fluffy and lemon colored, about 3 minutes. Stir in the sugar-corn starch mixture. Whisk 1/2 cup of hot milk mixture into the egg mixture. Add the egg mixture back to the milk in the saucepan and cook over medium heat until thick, about 5 to 8 minutes. Stir constantly to prevent scorching. Lightly boil filling 1 minute to eliminate starch taste from the cornstarch. Off heat, add butter and rum; transfer to a bowl.
Cover with plastic wrap, pressing wrap onto surface of filling to prevent a skin from forming.
Chill until cakes are baked and completely cooled.
Make Cakes: Preheat oven to 350 degrees. Spray 2 9 inch cake pans with flour- added cooking spray and line with parchment paper rounds.
Golden Cake: Sift together flour, baking powder, and salt three times; set aside. In a large bowl, beat eggs and sugar on high speed until light and fluffy, 8 minutes. Gently fold sifted flour mixture into eggs in two additions, making sure it gets thoroughly mixed. Stir in milk, oil and vanilla.  Pour batter into one of the prepared cake pans.
Chocolate Cake: Sift together flour, cocoa powder, baking powder, baking soda, and salt three times; set aside. In a large bowl, beat eggs and sugar on high speed until light and fluffy, 8 minutes. Gently fold sifted flour mixture into eggs in two additions. Fold in coffee, oil, and vanilla until thoroughly mixed. Pour batter into other cake pan.
Bake golden cake 25 to 30 minutes; bake chocolate cake 15-18 minutes. Cakes are done when a toothpick inserted in centers comes out clean, and cakes spring back when lightly touched. Cakes will pull away from the sides of the pan as they cool.
Transfer cakes to a rack; cook 10 minutes. Run a knife around edges to loosen, then invert cakes onto plates. Remove parchment and invert again onto the rack so the cakes are right side up. Cool completely. Split golden cake into half.
Place the bottom half of the golden cake cut side up, on a cake platter. Top with half of the cold filling (about 1 1/4 cups) spreading it evenly to the edges of the cake. Carefully place the chocolate layer on top; spread with remaining filling. Top with second golden layer, cut side down; press lightly to stabilize layers. Chill cake for about 15 to 20 minutes.
For the glaze, place finely chopped chocolate in a small bowl. Boil cream and corn syrup, pour over chocolate and whisk until smooth. Pour glaze on top of cake, smoothing it with a spatula.
Related posts: